Take Action Tuesday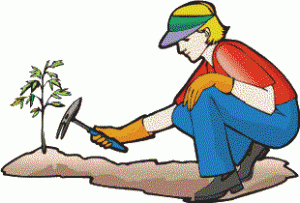 Monday was the pity party, Tuesday was for taking action.
Yesterday was the day I segmented my life at Our Little House into things I can do things about and the things that I cannot.
I didn't have one thing in the "I can't" category.
The first thing on my list was the amount of information I'm taking in. I will take a complete break from the computer on Saturday and Sunday, but until then, I do have to be online finishing my work. I don't, however, have to watch any more news about the Gusher in the Gulf right now. That might seem like I'm burying my head in the sand (pun intended), and I am, but it's what I have to do to maintain since I cannot be there doing something hands on to either help the folks or wildlife who make the Gulf region their home.
What I can do – and what I did – was take Emily's  advice over at Little House on the Southern Prairie. I mentally went through our entire house yesterday, making note of how we could make Our Little House even more environmentally friendly and take away a little more of the power Big Oil has over our household.
There will be no more sandwich or plastic snack bags and every container will be reused for Dale's lunches. I've also resolved to have our well water tested, something we've failed to do to this point. If there's nothing lurking in the water that will kill us within 50 years, we will no longer be purchasing gallon jugs of drinking water. As for gasoline consumption, we already combine as many trips as possible, but I found ways to combine two more, further reducing our vehicle's thirst.
Take that, BP!
As for animal welfare, I decided to stop feeling so helpless on Monday night and I contacted a rescue that was pulling dogs yesterday from a high kill shelter in the city nearest to us. I found a rescue to take one and helped direct an online fundraiser that saved eight more. A total of 17 dogs were saved from euthanasia yesterday and I felt a part of something. The rescue was more than glad to have help too! Sadly, six were left behind, but one of the rescuers said she learned a long time ago to only focus on what she could do and say a prayer for the rest. I did during my meditation, sending them love and peace for their next journey.
I also pulled my business plan out and dusted it off, something I hadn't done since the business of freelance journalism has changed so drastically. I have to change with it and that means new goals. I also took a look at our vision board, making sure my actions are in line with goals we've set in our personal lives.
A little gardening didn't hurt yesterday either. There's nothing like ending the day with a fresh garden salad filled with romaine lettuce, tomatoes, zucchini and onions planted by your own hands and nurtured by the sun and earth to renew your faith in the world.
I'm hoping the rest of the Living Large community is starting to take action for themselves and for the earth again as well. Tell us about it.