Heat Thunder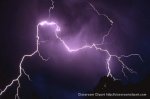 Sometimes it's hard to hear things in Our Little House in the summer due to the buzz of our window air conditioning unit, but Dale and I both reacted to the thunderous crash on Sunday afternoon.
Earlier in the day, we heard the buzz of two military transport helicopters flying rather low almost right over our house.
This, however, sounded like an explosion and rocked our little dwelling.
"What in the world?" I jumped up from the couch. Dale was making taco sauce and the dogs began barking.
"That had to be thunder," he said.
"Or an explosion," I replied.
I looked out the window, but couldn't see a cloud in the sky. I went outside into the blistering heat and stood on the deck, looking over the treetops as best I could to make sure I didn't see smoke coming from the direction of neighbors.
Nothing but big white puffy clouds floating against a bright blue sky.
I went back inside and got back into my Lifetime movie, my Sunday afternoon guilty pleasure.
Another rumble shook the house and another round of barking from The Fearsome Four. This one was definitely more of a rumble than an explosion like sound.
"There it is again," Dale said.
We finally concluded it was heat thunder. I don't know if that's what it is really called, but that's how we've always referred to the mysterious rumblings from the sky.
I also don't know the science behind it, but know it also happened in the city, it just didn't shake the house to the foundation. It usually happens on hot afternoons when it is otherwise clear, but sometimes when a storm is approaching.
Later that evening, we went out on the deck to watch the storm blow in. There was no doubt about the origins of those rumblings!
Does anyone know why there is thunder so close when it is clear on a hot afternoon? What sounds shake your home?