Cougar Town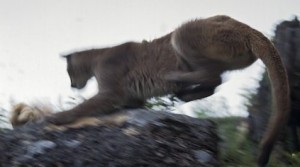 Anytime you hear what sounds like a woman screaming in your front yard, it can be a little disconcerting.
Knowing what you're hearing though, makes the difference in whether you grab the phone to call the police, or grab the camera.
I didn't have a chance to grab the camera the other night when the noise woke Emma, our German Shepherd/Rot mix, and I up at Our Little House.
I thought at first it was part of a dream until I heard Emma barking and I knew she had heard the screeching too.
Although still a little startling, especially during the night, we've been told by locals the noise we hear is a wild cougar that has taken up residence in these mountains near our house.
That would make our little compound here more of a Cougar Town than Campbell Town.
The first time I heard it, I was walking from the Belle Writer's Studio back to Our Little House during a break from work and heard it on the lakeshore. Thinking someone must be hurt down there, I called my aunt, who could hear the noise as well. She thought it was some sort of animal, but didn't know what.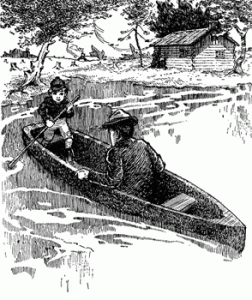 Soon after, Dale and I went canoeing on the Buffalo National River and our guide who took us to our drop off point started talking about all of the wild animals in these woods. "Have you heard the woman screaming yet?" he asked. When I nodded, he said, "Well, you've heard a cougar."
He said officials deny we have them, but like many things it's the locals who know these mountains better. We know we have Bobcats, as Dale has even seen one of those.
Cougars, also called Mountain Lions and Panthers, are native to Florida and larger than a Bobcat.
A little Internet research indicates one was killed as far north as Omaha. I also verified wildlife officials acknowledge they're here, they just believe that they're pets that have been set free.
Pet or no, I know what I've heard now on at least three occasions. There's no sound like it.
I can't wait until we are able to set up a night vision webcam in the woods so we can finally have pictures to go with the sound.
Armadillos are also migrating north, do you know of any other animal that's been reported in your area that is on the move? I know I have some wildlife experts out there, do you think cougars are in Arkansas?