So Long, Good Buddy, Our Foster Dog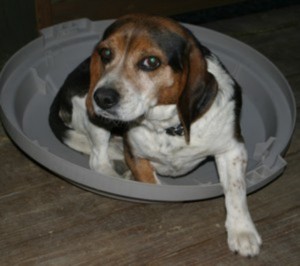 The call came on Monday morning.
The man who had come to our house several weeks ago, decided he wanted Buddy and reimbursed us for what we spent on him at the vet, was coming back to pick him up. He had been traveling throughout the past few weeks and I told him he could leave Buddy with us until he got back and could concentrate on building a relationship with his new 4-legged boy.
This was our first fostering experience, mostly because I felt I couldn't do it and would get too attached. After all, 3 of our 4 current dogs were to go into a rescue, but once I had them, I couldn't let them go.
I knew from almost the beginning that Buddy wasn't ours and so I tried not to let a bond develop. I read articles on fostering dogs, I tried the tricks other fosters use. I tried to concentrate on his faults (this was hard, as he was truly one of the best dogs we've ever had). I tried to remind myself I didn't like male dogs (again, hard since he didn't find it necessary to pee on everything). I told myself we didn't have the space (but he had found a bed and corner all his own).
Buddy was doing well here, he had come out of his shell and wasn't quite as shy. He had almost quit ducking every time we reached to pet him. He had a routine, got along well with the other dogs and even joined in howling sessions before mealtime.
By last weekend, our friends were asking if we were just going to give the money back the new owner paid on the vet bills and tell him we couldn't give him up.
We thought about it.
The worst part for me was that as his primary caregiver and maybe one of the first people to show him affection in his life, he began following me everywhere. If he couldn't see me from where he was laying, he would get up and find me (not a difficult task in our house).
We thought about what he would think being uprooted and moved again with a person he had only saw twice at our house.
He tried so hard to please and was really a very sweet, good boy. Would he feel dumped again?
Then I heard from mutual friends that his new owner was so happy and excited to get him and couldn't wait to get home from his travels so he could bring him home.
I know we did the right thing, for us, for our Fearsome Four, for Buddy's new owner and most importantly, for Buddy.
Which Living Large reader put bets that I couldn't let him go, was that David? I did, but I didn't want to and I cried. Rescues can have my money and I'm happy to contribute food to other fosters, but I don't think this fostering thing is for me. I gave it my best shot, I tried not to get attached, but I did.
I'm trying to keep this quote in my mind when I think of Buddy:
"Some think it's holding on that makes one strong; sometimes it's letting go."
— Sylvia Robinson
Have you ever fostered a pet or a child? How do you keep from getting too attached?