Raising Chickens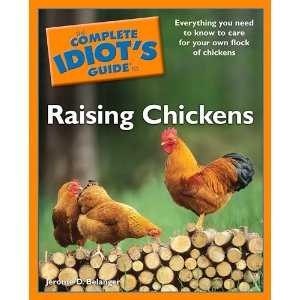 If there is a cold, hard winter, the insects die and don't' come back in the summer as bad
That wives' tale isn't true.
We had the coldest, snowiest winter here yet and the ticks are in abundance this spring. I think the snow just gave them extra insulation from the cold.
That's one of the reasons I would love to have a few chickens. They keep the bug population to a minimum.
The second benefit would be really fresh eggs. I could go outside and gather eggs each day. We have a neighbor we buy eggs from and there still is a difference from the store bought eggs, but the truth is, I really don't know how old her eggs are by the time we buy them.
Those two reasons to have chickens are tempered with two very good reasons we can't.  Emma and Sade. They would compete with the coyotes here raiding the hen house.
Raising chickens will have to remain a dream for me for right now, but if you want to have some hens and a rooster running around, Jerome D. Belanger's book, "The Complete Idiot's Guide to Raising Chickens" has all the information you need. Whether you want to raise them for eggs, meat or both, this book has it all.
(I admit to being a bit squeamish at reading the meat chapter).
You can register for a chance to win Raising Chickens right here on Living Large!
Just make a comment on this post between now and 5 p.m. CST on Monday, May 31, telling us why you would like to raise chickens.
You can live anywhere, even outside of the U.S. I will draw a winner and announce the name on the post on Wednesday, June 2. If I don't hear from you with your contact info by Thursday, June 3, I will draw another winner.
We are going to be really busy this Memorial Day weekend and I am taking Monday off for the holiday.
I wish all of you a wonderful holiday! In between the bar-b-ques, picnics and the fun official kick off to summer, don't forget to remember those we have lost.