Our Memory Book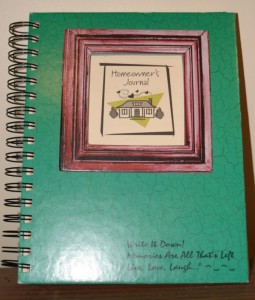 Thanks to Steffi, our German exchange daughter and her family in Munich, we now have a new tradition at The Little House.
When we visited Steffi's family three years ago to attend her wedding, we spent a couple of evenings at her mother's flat.
After the meal and good conversation (some of which had to be translated for us), her mother, Barbara, brought out a little album.
Everyone was required to write a little something memorable about the evening. Barbara's book was brimming with quips dating back years, all written for posterity. Some of the people, such as her parents, were no longer with them, but they had the album of memories. Steffi and Barbara told us that pulling out that album was like reliving a fun-filled get together all over again.
Of course, we have photos and videos of special times, but upon seeing their book, I wished I had the writings of my parents; my Godmother; my great aunt Edice, who was like a grandmother to me; my brother and even those of some of my family of which I am now estranged.
Maybe as a writer, I feel a few words are worth a thousand photos, instead of the other way around.
When we built The Little House, I found this book in our local pharmacy/soda fountain (it's so much fun our pharmacy has a soda fountain!) The book allows us to record everything that is done to our house and memories we make here.
When we returned from Germany, I fully intended on beginning this tradition of writing special memories when our friends and family visited.
Somehow, I just never got around to it until Fred and Rae came up for dinner on Sunday.  It was a good night for memories too, it involved the dogs tearing around the deck while we tried to visit, Molly eating whip cream from the can and lots of yummy food. We all came up with a special moment to write about that is now tied forever to that evening of good food and good friends.
Priceless.
How do you record memories of special times at your home?