Nature's Bounty During a Strange Spring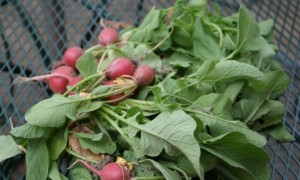 I think the lyrics, "Rainy Days and Mondays," was written for this past Monday at the Little House. It poured all day and was extremely cool for this time of the year. It wasn't cold enough to fire the woodburner back up, but I had to turn on the oven for a little while just to take the chill off.
It's been a strange spring in many areas of the country. I read on my Facebook page about friends turning their furnaces back on and snow still falling in parts of the west.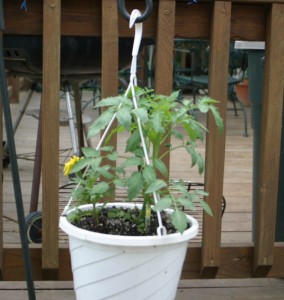 However, even with the weird weather, which goes from extremely hot and dry to cool and wet, we're still benefiting from a wealth of nature's bounty here. In the past week, we've made salsa with fresh cilantro from the garden we're sharing with neighbors and eaten salads with fresh lettuce, radishes and green onion.
We also sautéed some lovely organic Portobello mushrooms we bought at the Farmer's Market from a local grower last week.
In the photos, you will see my last harvest of radishes, which I love. I clean and trim them up and what's not used in salads, I eat as snacks with just a little salt.
My grape tomato plant is doing well in its' hanging basket and I just hope to get the harvest of those that I did last year for fresh salads throughout the summer. The little yellow flower you see with it is a marigold. Putting them near tomato plants will help keep the bugs away.  It's a trick I learned from my mother, who was an excellent gardener.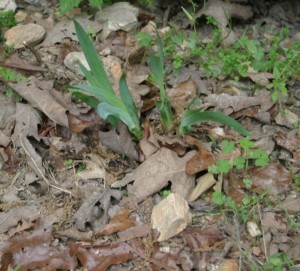 In the ground  is one of the many Iris's I planted. You can also see the rock all around the Iris, which seemingly also "grows" out of the ground here. My neighbor, Alicia, splits her plants out every summer and gave us two great big boxes. I tried to explain to her that the terrain here down the mountain is worse than at the top, but she insisted these need little room for roots. She was right! I planted several in front of my office, as well as in front of the party deck. They will be beautiful when they flower next spring.
What I didn't plant, she told me to throw into the woods and they would take root and grow wild. We'll see how that turns out.
We're seeing very little spring-like weather, but nature's bounty is already all around us.
What types of flowers and vegetables are now growing around your home?