The Hours Count Down Until the Finale
Tonight ends an era for me on television. The final episode of "24" will play out in a 2-hour series finale that I'm sure will eventually find a new time on the big screen.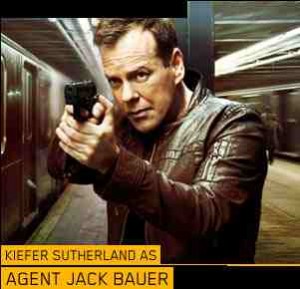 My mother and I began watching it in the fall of 2001 because we like Kiefer Sutherland, and yes, maybe in those months following 9-11, we needed to see an American hero putting some whoop on the bad guys.
As television became less and less appealing to me with all of the "reality" shows that aren't real, Mom and I stuck with "24."
When she lived down the road from us, we usually watched it separately in our own homes, calling each other during commercials, replaying every last tick-tocked moment and anticipating what would happen next.
We watched it together first in 2004 when Mom was in the hospital after her heart attack.
The show even became a way for our German daughter to stay connected. They were always a season behind what we were seeing, but it gave us something to talk about, and the DVD of the season gave us a gift to send at Christmas.
When Mom moved to the senior apartment building, I began staying with her on Monday nights after I took her dinner over and we would watch the show together. Although surrounded by more people, she seemed even lonelier there and she never wanted me to leave. Watching "24" was still something she enjoyed and one of the remaining things we could do together.
In her final weeks while in the hospital, we watched the final episodes she would see again in her room. When she didn't respond to the show that last week, it was one of the first times I acknowledged that she probably wouldn't make it.
I remember after the first season that Kiefer Sutherland was hesitant doing a second. He was quoted as saying something to the effect that sequels are never as good as the original and he was afraid of not being able to live up to the greatness of that first season.
It did, however, by constantly introducing excellent writing, plot lines (it had a black president before we did in reality) and acting by some fine guest stars.
Although I've stuck with it, "24" for me hasn't been the same since my mother died.
Last season, I finally realized that it wasn't me, the show had gone past its prime, losing it's punch, which is what Kiefer Sutherland was afraid of after the first season.
I continued watching it this season, more out of nostalgia than anything else. It was the final past time in my life that I enjoyed with my mom and tonight it will also fade to black.
Have you ever stuck with something more out of nostalgia?