It's not Having What you Want…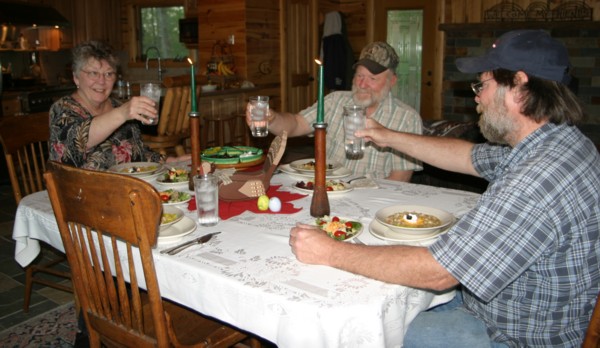 We enjoyed a fish dinner at our neighbors this weekend. The walleye fishing has been great on Bull Shoals Lake. We haven't been out on the water yet this spring (rainy weekends, a boat that needs batteries, expired fishing licenses). We catch and release but our friend, Fred, eats his bounty.  We were lucky enough to have been invited to their home on Saturday night to celebrate his good fishing and our good fortune for Dale's job.
I read the fishing will be good on Bull Shoals for at least three years, as the fish have had plenty of time to replenish due to mass flooding in 2008 and The Great Recession in 2009 that kept locals from buying gasoline for their boats and "outlanders" or "Yankees" (as the true locals call vacationers) from visiting the Tri-Lakes region last year.
During our visit to Fred and Rae's we started one of those hypothetical conversations about money. You know the "What would you do if you had xx $$ or won the lottery."
Our conversation was focused on having enough to just be comfortable, not a $25 million lottery win.
I said we would definitely finish Dale's garage into his dream man cave and I might splurge on a couple of Dutch doors, the kind I've always wanted, but were way above  the door budget when we built The Little House. Finally, we would definitely replenish and pad our retirement fund so we could spend our days floating on this beautiful lake.
That's it. I couldn't think of anything else.
"And put your addition onto the house, right?" Rae added.
That had been our goal; first it was adding a large addition to accommodate a family room upstairs and an office area downstairs. We then scaled back our wants to just adding six feet to the front of the house, extending the bedroom and living room.
Now I realize that isn't even a blip on the radar, which is a pretty far leap from three years ago when I insisted I could never live full-time in 480-square-feet.
"No. I don't think so at this point. We have what we need and I have what I want to have to maintain," I replied.
A wave of happiness washed over me, as it was at that moment I realized that I'm truly content.
In the song, "Soaking up the Sun," Sheryl Crow sings, "It's not having what you want.  It's wanting what you've got."
When you truly realize you do want what you've got – and that it's enough – it is like soaking up the sun. Now if the 7-day rains would stop here (rainy days and Mondays have been everyday here and it feels as if we could float away), I could physically feel it too!
Do you think our society, which always seems to be striving for more and bigger, robs people of that euphoria of contentment?