It is Hot and Humid at our Little House
I love summer, but the heat and humidity that Arkansas is known for has definitely set in and that means more moisture problems here at Our Little House.
Last week, I had to take Dakota to the vet as she had what turned out to be a scratch on her cornea, as well as a double ear infection. The vet told me dogs get these yeast infections in their ears when there is a lot of humidity.
I've written here before about the humidity issues in the basement at The Belle Writer's Studio, as well as in the metal storage building where most of our furniture is stored.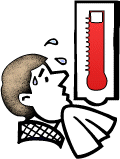 Humidity is not a problem in Our Little House during the winter when we're heating with the wood burning stove. As a matter of fact, I have a steamer I use sometimes just to put some moisture in the air.
Now the humidity in the summer in Our Little House isn't just causing our pills and vitamins to go bad if they're not used right away, or my spices to clump up, it's affecting our health as well. I'm guessing this also might be a partial cause of my migraines, which didn't start until we moved here.
There are several different factors that cause a small home to have higher humidity problems, including doing laundry, cooking and showering all within a small space.
We don't have mold issues in Our Little House that I know about, but evidently my efforts, such as opening windows and pulling the air out, opening the window in the bathroom and turning on exhaust fans is not doing enough.
We do have extra issues to deal with:
Our builder didn't run the dryer hose out of the house, just down into the basement. This is definitely something Dale is going to have to correct.
A lake about 100 yards from our house.
We do plan on purchasing dehumidifiers, but we need three of them, so this is going to be a major budgeted expense.
Any other ideas on how to reduce humidity in the home immediately?