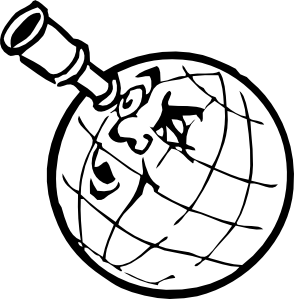 Privacy on the Internet has been a big topic in the media this week, as well as on social net­work­ing sites. Especially Facebook, where it seems there's a new alert in a friend's feed almost every­day about new ways the social media site is try­ing to make mem­ber infor­ma­tion open to anyone.
I'm a pretty open per­son. As a writer, my name is in the pub­lic domain often and I've opened cer­tain facts of our lives up in my book about my brother's life, "No Immediate Threat: The story of an American Veteran," as well as open­ing up a good por­tion of our lives here at Living Large. In addi­tion, I'm a free­lance writer whose office is also my home, so cer­tain con­tact infor­ma­tion has to be made pub­lic so clients can find me for jobs.
On my social media sites, I accept friend invi­ta­tions from most peo­ple. However, it's still dis­con­cert­ing to me that social media sites are seem­ingly doing every­thing they can pos­si­bly do to slip out infor­ma­tion to the gen­eral pub­lic that you think you're only post­ing for your friends and fans.
Then there comes word of this site, spokeo​.com, which lists an alarm­ingly amount of infor­ma­tion about you, your home, job and salary.
It's quite an eye opener as to the type of infor­ma­tion avail­able to any­one with a computer.
I can actu­ally see my mother shak­ing her head in dis­gust and my father's bald head turn­ing red over that one, hav­ing come from a gen­er­a­tion where someone's per­sonal finances, includ­ing their home's value and their salary was an absolute taboo sub­ject out­side of the family.
Although quite a bit of the infor­ma­tion was inac­cu­rate on spokeo, a com­ment I've seen made by more than one per­son, I really didn't like the idea of that kind of infor­ma­tion being on what they've dubbed, "Not Your Grandma's phone book."
At least you can go down to the bot­tom of the page, hit pri­vacy and you can have the infor­ma­tion removed.
I was then read­ing the com­ments on an arti­cle about the Facebook con­tro­versy and I think some of the peo­ple com­ment­ing have a point when they write that if you don't want cer­tain per­sonal infor­ma­tion out there, you wouldn't post it any­place, even on a site where you think only your friends are reading.
It does some­times make me flinch as to the amount of per­sonal stuff peo­ple some­times post.
TMI, IMO…LOL.
Still, I've never posted the type of infor­ma­tion spokeo​.com claimed to have on us.
Others com­mented that in today's infor­ma­tion age, there's no pos­si­ble way to stop the flow of our pri­vate infor­ma­tion, that noth­ing is sacred. Our credit his­tory, crim­i­nal back­ground (if there is any), pre­vi­ous addresses, net worth, phone num­bers, polit­i­cal and reli­gious affil­i­a­tions and even posts and pho­tos from our "closed" social media sites (for some peo­ple that even means what they had for din­ner or the last argu­ment they had with their spouse) are up for grabs on any num­ber of sites for any­one with $49.95.
Maybe I still like to think I can con­trol what infor­ma­tion is in the pub­lic domain and what I choose to keep pri­vate here at Our Little House.
Unreasonable? What do you think of today's pri­vacy issues?