Is Privacy out of our Control?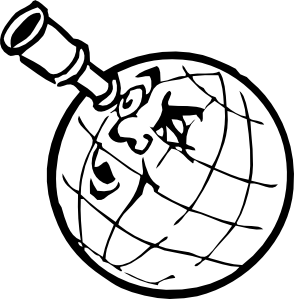 Privacy on the Internet has been a big topic in the media this week, as well as on social networking sites. Especially Facebook, where it seems there's a new alert in a friend's feed almost everyday about new ways the social media site is trying to make member information open to anyone.
I'm a pretty open person. As a writer, my name is in the public domain often and I've opened certain facts of our lives up in my book about my brother's life, "No Immediate Threat: The story of an American Veteran," as well as opening up a good portion of our lives here at Living Large. In addition, I'm a freelance writer whose office is also my home, so certain contact information has to be made public so clients can find me for jobs.
On my social media sites, I accept friend invitations from most people. However, it's still disconcerting to me that social media sites are seemingly doing everything they can possibly do to slip out information to the general public that you think you're only posting for your friends and fans.
Then there comes word of this site, spokeo.com, which lists an alarmingly amount of information about you, your home, job and salary.
It's quite an eye opener as to the type of information available to anyone with a computer.
I can actually see my mother shaking her head in disgust and my father's bald head turning red over that one, having come from a generation where someone's personal finances, including their home's value and their salary was an absolute taboo subject outside of the family.
Although quite a bit of the information was inaccurate on spokeo, a comment I've seen made by more than one person, I really didn't like the idea of that kind of information being on what they've dubbed, "Not Your Grandma's phone book."
At least you can go down to the bottom of the page, hit privacy and you can have the information removed.
I was then reading the comments on an article about the Facebook controversy and I think some of the people commenting have a point when they write that if you don't want certain personal information out there, you wouldn't post it anyplace, even on a site where you think only your friends are reading.
It does sometimes make me flinch as to the amount of personal stuff people sometimes post.
TMI, IMO…LOL.
Still, I've never posted the type of information spokeo.com claimed to have on us.
Others commented that in today's information age, there's no possible way to stop the flow of our private information, that nothing is sacred. Our credit history, criminal background (if there is any), previous addresses, net worth, phone numbers, political and religious affiliations and even posts and photos from our "closed" social media sites (for some people that even means what they had for dinner or the last argument they had with their spouse) are up for grabs on any number of sites for anyone with $49.95.
Maybe I still like to think I can control what information is in the public domain and what I choose to keep private here at Our Little House.
Unreasonable? What do you think of today's privacy issues?