Every Drop Spilled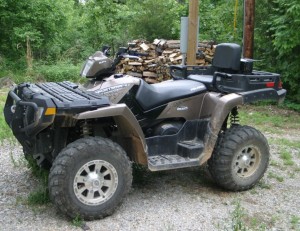 Our neighbors, Fred and Rae, went to Eureka Springs on Friday to celebrate their anniversary. They left me in charge of taking their dogs out a couple of times during the day. We love their rescues, Mikato and Gus, and of course, I have no problem spending time with a couple of extra dogs.
They also left me their 4-wheeler (ATV), as it looked like rain and I really didn't have time on Friday to walk the mile down to their house and back. It would also save me from getting out the Baby Blazer and putting it back in the garage soaking wet and dropping mud all over Dale's clean garage floor.
I was a little nervous about taking out the 4-wheeler.  Our plan had been to buy one when we moved here, mainly so I could take it up to the Big Box to get the mail, but I had only drove an ATV twice in my life. Both were test drives and Dale was with me.
Shortly after I finished my lunch at home (I told Fred and Rae they should have their meal at DeVito's, a great Italian place in Eureka Springs), I gathered my courage and headed for the garage.
It took me only about 2 minutes to get used to turning and by the time I hit the road, I was having a pretty good time.
When I reached Fred and Rae's, I let the boys out and told them, "Let's go for a run!" and they were all over that. I took them another ½ mile down the road toward the point. I think I had more fun than they did, but we were all three having a pretty good time.
Rae had told me I could take the 4-wheeler back up the 2 miles to the blacktop to the Big Box and gather our mail. Dale usually just brings it in when he gets home from work.
I didn't think I would have my riding legs that quick, but after I made sure the boys had a treat and fresh water, I took the ATV all the way up the mountain. The views were awesome and the feeling is that of those I've heard describe riding a motorcycle, exhilarating.
I know it isn't very green and I really did fell guilty for having such a good time on the 4-wheeler. Especially with news of the terrible damage from the Gulf Coast oil spill.
While riding the 4-wheeler down to Fred and Rae's house probably used less gasoline than the Baby Blazer would have, I really didn't need to waste the gas riding it up to the Big Box.
Our dependence on oil and reckless use of it has been causing the loss of human and animal life and destroying our planet for too long.
The time when we watch disasters such as that and are allowed to believe it has nothing to do with us personally, are over.
Do you think about using gasoline more these days? How has it affected your daily life?