R.I.P. Old Big Box
Congratulations, Jenna Ann Martin! You're the winner of the first weekly drawing on Living Large in celebration of Earth Day. You've won a copy of Jodi Helmers "The Green Year." Please email me at fivecoat@ozarkmountains.com with your snail mail address by Tuesday at 5 p.m. Thank you everyone for participating and if you don't have a copy of this book, it is a great resource for finding new ways to help the planet.
I've never understood the thrill of destroying someone else's property. Even when I was a teenager, I never vandalized anything. Perhaps it was the work ethic I was raised with and the fact that I began working as a babysitter when I was just 11 and got a "real" job at the local Tasty Queen when I was 14.
I understood how hard people had to work to have things.
That's why it always takes me by such surprise when we've been the victims of vandals. When I got up Saturday morning, I headed for the table, looking for the mail (and in particular, some checks that are owed me). I had a full list of "to-dos" and errands to run while Dale was home from his 70-hour week for a couple of days.
He asks, "Did you get the mail yesterday?"
Dale always picks the mail up on his way in from work and since he began his new schedule working a part time job and his new full time job, that means he picks it up well after midnight, long after I've gone to bed.
He knew I hadn't been out on Friday and I don't make a special trip up the road to get the mail. "No, why would I have gotten the mail?"
"Our mailbox is gone."
Now, I was not only on overload from everything we had to do while he is home, but coffee deprived and confused as well.
"Gone? Are all of them gone?"
"No. Just ours. I couldn't see it anywhere in the dark."
It was there when he stopped after midnight on Thursday night and missing by midnight on Friday night.
I moved from a little cranky to enraged.
What if my checks were in the mailbox when it was stolen!?
I called the post office and found our carrier was still there. He told me that he had seen a big rural mailbox beaten and crumpled in a ditch about a half-mile down the road and when he got to our row of mailboxes, he realized it was ours. He didn't deliver our mail and still had it in town. Who knows why he didn't pick up our mailbox – it was clearly marked without our address and name – or even bother to call us when he returned from delivering the mail to let us know on Friday. Our contract mailman does as little as possible to get by, he won't even bring packages down our road, although the post office says he must unless we're more than 2 miles away. This is why we need a large rural mailbox to begin with, if we don't have one, I would have to take time away from my job writing running to the post office to pick up packages my clients send, or other things that just don't fit in a standard sized box.
I asked him to leave the mail at the post office and told him we would have a new box up by Monday.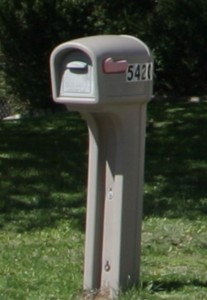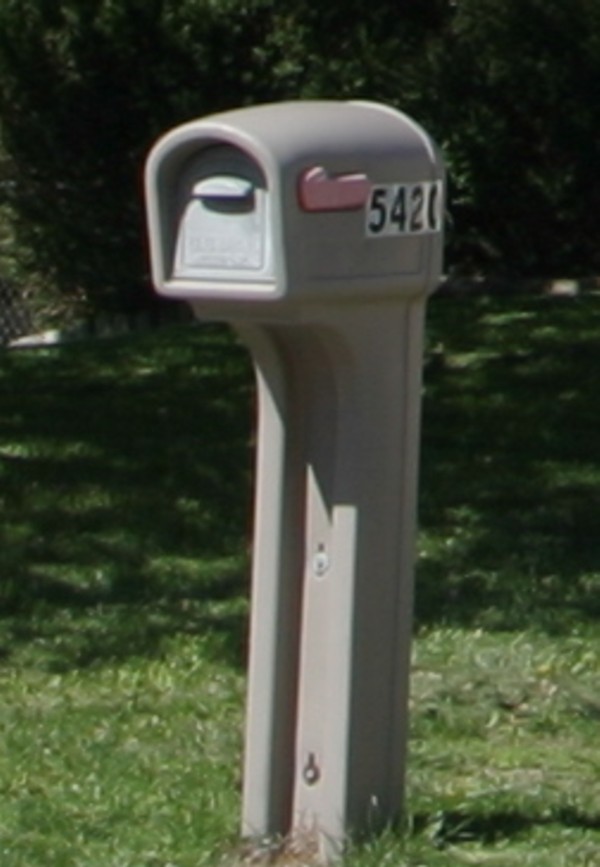 We had this happen all of the time in the city. Kids and baseball bats. Our neighborhood would awaken, usually on a Saturday or Sunday morning to our mailboxes littering the streets. After a half dozen mailbox replacements, we finally purchased this clunky, ugly thing, but we never had to buy another mailbox.
Still incensed, I added another line to the to-do list and another $40 unexpected expense for another big rural box to the budget. Just what we needed when I'm trying to get us caught up.
We found out later from a neighbor that someone had hit the entire row and ours probably got stuck on their vehicle and was drug down the road. It wasn't very neighborly of someone to come along and pick it up on the road and just take it instead of returning it to us.
I doubt whoever did this even realizes it's a federal offense to tamper with mailboxes. Or even care Dale will be working over 5 hours today paying for it, and one of our other bills will have to wait. Or even gave a thought that yesterday, on one of his two days off, with other maintenance projects I cannot do waiting at the house, Dale had to spend time affixing a new mailbox. Only this time, it is securely fastened, anyone who wants to drag it away will have to take all 15 on the row.
Have you ever been the victim of vandals or theft?