Natural Remedies at The Little House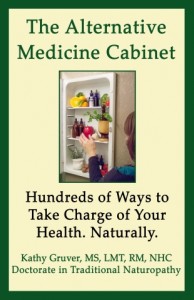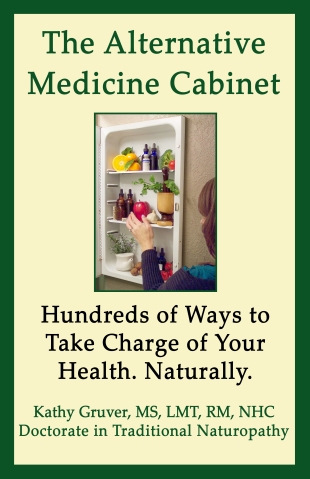 I hope you all had a wonderful Earth Day! Today, I have Kathy Gruver, author of "The Alternative Medicine Cabinet," sharing some insights about her book and alternative medicine!
1). Tell us a little about your book:
The Alternative Medicine Cabinet is a collection of natural health information to illustrate options other than Western medicine to achieve to better health. It covers general modalities like massage, homeopathics, reiki, Bach Flower Essences and then moves into specific issues that might need to be addressed like sleep, depression, high blood pressure, cancer, mind/body medicine, nutrition and many others.
2). Why did you decide to write a book on natural remedies?
I see such a breakdown of the current medical system. It's so drug and surgery heavy and though there are certainly times that those things are needed, we can eliminate a lot of our dis-ease with lifestyle changes and natural remedies. There are some great books out there, but because this is a collection and not on one specific ailment or modality, I think it gives a great overview of options available.
3). What is one of the most common myths about natural remedies?
There are so many. Two are very important to me. One is that people think because something is natural it's ALWAYS safe. And most natural remedies are, but if you look at a system such as herbs, they are a chemical compound and they can interact with other things. It is also possible to get too much of a certain vitamin for example. I don't think we can fear things because they're natural but we must also realize that some can be dangerous if used improperly. The second misconception is that because your doctor didn't tell you about it, it must be bunk. There are some fabulous physicians out there, but not everyone knows about everything. I have seen some amazing recoveries using alternatives such as massage, acupuncture, homeopathics and Bach Flower Essences.
4). Sometimes when I tell people of my "cocktail" to rid myself of a cold (which consists of vitamin C, Echinacea and Zinc), some people will say, "That's not been proven to work." Do you think pharmaceutical companies and maybe our own government, in collaboration with them, don't want us to think natural remedies work?
YES, a gigantic yes. I hate to say that, because we'd like to believe that the government and its organizations want the best for us. But I see more and more evidence that it's just a matter of the bottom line. Let's say you "cure" your illness with something natural. That's a heck of a lot of money that's not going to the pharmaceutical companies or the health insurance megalith. I've had doctors mad that I've "fixed" a client that was scheduled for surgery. I think the Western medicine moguls feel very threatened that society is starting to look towards less invasive, natural solutions.

5). What is the most surprising remedy you've found?
I was stunned when I first started working with Homeopathics and Bach Flower Essences. They are very similar in method and I've seen conditions clear up in a matter of hours. It's pretty phenomenal that these are affordable, accessible and have no side effects and can be so effective. You have to pick the right ones, but I've seen them do amazing things. It also never ceases to amaze me, the power of our minds. I'm a huge proponent of mind/body medicine and the mind is the most amazing healing tool we have. We can change our bodies by changing our minds.
Here's another Friday giveaway! I've shared one of my all-natural medicine tips in the above interview. Give us one of your own in the comments section between now and Sunday, April 25 at 5 p.m. CST and I will put you in a drawing for one of Kathy's books! I will draw the winner and name you on the post on Monday morning. You will need to contact me by email by 5 p.m. CST on Tuesday, April 20 with your snail mailing address.
Apologies to my international readers, but you have to be a U.S. based resident to win. (Disclaimer: I do not work for Kathy, nor am I receiving compensation for offering this giveaway).
Good luck!