Earth Day Everyday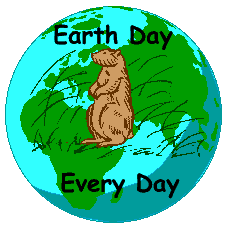 It's April already and would be a completely wonderful month if it weren't for April 15th (for my American readers, anyway)!
I've planted the veggie garden up at my neighbors, the flowers and trees are beginning to bloom here in the Ozark Mountains (as are my allergies), but it's all good, I love this time of year.
April is also the month of Earth Day, which falls on April 22nd this year. This designated day to bring awareness to the environmental issues we all face is 40 years old this year. There will be lots going on, some of which are listed at the Earth Day website.
In celebration here on Living Large, I'll be doing a few more posts on the environment and also doing giveaways each week!
Since we're at the beginning of the month, I thought I would sit down and make a list of 5 changes I can make to help the environment, while removing more toxins from our daily lives.
One of the biggest changes I'm going to embark on this month is going to all natural hygiene and personal care products. I already use Bare Escentuals makeup, which is great. I can even sleep in it and my skin's problems do better when I'm wearing it. One of the most challenging might be changing our toothpaste. I have a problem with tooth sensitivity and I'm not sure how an all-natural toothpaste will work, but I'm going to give it a try. I'm also changing our soap and lotions.  This is an easy one for me. I love Indigo Wild products. Besides being a homegrown, Kansas City based company, they love dogs. All of the workers in their offices and plant are free to bring their canine kids to work, making for happy dogs and employees. Their all-natural shay butter products are wonderful. I haven't decided on deodorant as of yet. My friend over at Frugal Kiwi has an easy-looking recipe for homemade deodorant, so I may try that.
After our terrible ice storm last year, we got into the habit of turning off the power strip that plugs in our television and DVD set-up. We also got into the habit of turning off the electric hot water heater when it wasn't in use. I don't know exactly when we got back out of that habit, but given we need to save every dollar we can and I hate wasting electricity, we're back on that wagon.
Do more to track down organic meat here. While I would happily go vegetarian, my husband can't get over the idea of never eating meat. In the city, our choice was simple and easy. Good Natured Family Farms, a co-op of all natural farmers, banned together to sell to one of the family-owned grocers and we had a store that sold their products 10 minutes from our home. When I asked a meat market butcher here about free-range, all natural or organic meat here, he told me he only had meat that was processed "the regular way." After watching the documentary, Food, Inc., I'll take it processed the good old fashioned all natural way, thank you.
I'm packing away all of our Teflon non-stick cookware and digging out my husband's collection of cast iron cookware. There's no reason we have to use these pieces only for hobby cooking outside. After going to a friend's house for dinner and watching her cook with ease on her set and feeling as if we got a better meal, I'm making the switch!
This will be the month I will start reading up on canning and freezing the bounty of veggies we're sure to get out of the neighbors garden this summer. This will not only make me feel better about where our food is originating, but will also save us on our grocery bill throughout the rest of the year.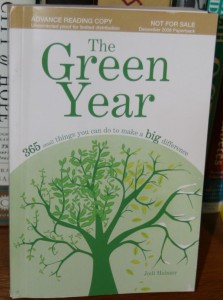 Ok, readers, your turn. Tell us all at least one thing you intend to change this month that will help you and help the earth. You can think of just one thing, even if it is to just watch an environmental documentary such as Food, Inc. Make a comment on this post between now and 5 a.m. CST on Monday, April 5 when the new post is up and I will draw one winner for a copy of the book, "The Green Year: 365 small things you can do to make a big difference," to be shipped to you. I've talked about this book before. It is my go-to resource when I want to find new small baby steps I can take to help the environment. My friend and colleague Jodi Helmer did a fabulous job on this book! NOTE: You have to watch for the drawing winner announcement on Monday and if you've won, contact me by 5 p.m. on Tuesday, April 6 with your mailing address. Otherwise, I will have to draw another winner!
Have a great weekend and to my Christian friends and readers, Happy Easter!