Driving my Cares Away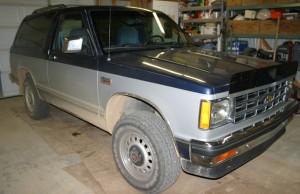 Yesterday, I had to complete yet another very unpleasant task at the bank.
I've learned these past 18 months since Dale's very unexpected lay-off from the good job from which we expected he would eventually retire – that there is something worse than paying bills – not being able to pay them.
Yet, when I hopped in my 1988 "Baby Blazer" and drove off into the sunny but cool day, my cares melted away.
We Americans have long had a love affair with our cars, and I'm no different. When I was a younger woman, I wanted, more than anything, a "Baby Blazer," those smaller Blazers Chevrolet used to make.
In 1988, we bit the bullet and for nearly $400 a month for 4 years, which was a lot of money for these 20-something newly weds, I got one.
She was my first and only automobile love.
She's been through a pretty bad crash (one of my friends thought I just might kill the person who hit me that morning – are you reading, Pam?), an attempt to steal her from the parking lot where I was taking night courses to finish my degree, and Dale has had to put in a new engine.
My Baby Blazer and her stereo made the days driving into a job I hated at a company I hated even more, a little more bearable, and the drives home in her helped me de-stress. She taxied our two girls and their friends to volleyball practices, football games and took us on our vacations. When my beloved late mother and I needed to go to the grocery store, or Mom wanted to go to Hobby Lobby (her favorite store), the Baby Blazer got us there. My mom even made a tiny dream catcher for her rear view mirror for safety and luck.
During the summer of 2007, she transported Dale to and from KC while he commuted back and forth after we sold our home there and before he received word on the job here.
Today, she rests, most days, in one of our garages. The new car smell has been replaced with that sort of musty, old car smell that upholstery starts emitting, but aside from a couple of little rust spots, she looks much the same as she did the day we drove her off of the new car lot 22 years ago this summer.
But on those days when I need to get to an errand in town, she still has the power to help me de-stress. Yesterday, I heard a song from "her" era on the radio and began to sing along. I got to thinking about all of the places she had taken me, in the good times and in the bad times. Those bad times didn't last then and my Baby Blazer helped me put our current stresses into perspective that these times too, will pass.
I started thinking of the lessons learned in the past 18 months when things haven't gone exactly as planned. I realized that the quote that's floating in the back of my mind about not being able to truly enjoy the good times without having a few bad, is true.
The stress at the bank faded and it felt like a good day.
By the time I met up with Dale to spend a little time with him before his second shift began, I was prepared not to lament over our business at the bank, but to show him the magnificent landscape he can see from the parking lot where he works. I was ready to tell him that a ride in my Baby Blazer in these beautiful mountains on a puffy-white cloud day could almost erase any cares from our world.
But before I could say any of that, his cell phone rang and on the other end was some of the most hopeful news we've heard in months. I can't share it with you just yet, but hopefully, soon. If all goes well, all of the pieces to our Living Large vision will soon be back in place.
When you are stressed, what is the one thing that can help take you away?