The Perfect Sofa Table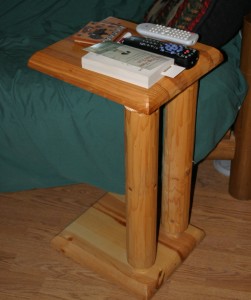 There wasn't much to do on Saturday afternoon, it was a cold, rainy day and I felt like getting out of the house.
We went over to Harrison, Arkansas, ate at one of my favorite places, Neighbors Mill, and then headed over to Log Cabin Furniture where we bought our bed and my office furniture. While we don't have room for anymore stuff, I still like to window shop. Last spring, we picked up one of my favorite and most functional pieces for The Little House, the sofa table shown above.
Even in our house in the city, I didn't have room for a side table near me on the sofa and I had one of these that my mother in law had given me. However, that one was stained in cherry and didn't go with anything in The Little House, so I didn't bring it with us. One thing I've definitely learned in The Little House is that everything must not only be decorative, but functional.
When I found this at Log Cabin Furniture, I was so excited, as I had nowhere to put drinks while we watched television or my coffee while I read the paper in the morning. The other end of the futon just doesn't provide any view of the television. Dale probably could have made one of these for much less than we paid for it, but shhh….don't tell him I said this, but if I had waited for him to make it, I would probably still be waiting! Instead, I got up yesterday morning, sat down with my newspaper, Molly (who is usually the only dog to get up with me), and sat my hot cup of coffee on my perfect little sofa table.
Have you ever found anything that just fits perfect in your house? What is your most favorite piece of furniture?