I'm Not Laughing With You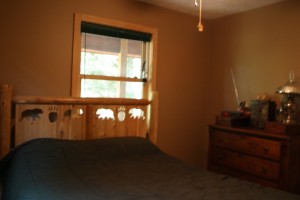 That was appropriate for the funny saying on my dog calendar on Monday. You see, sometime in the early morning hours of Monday, I heard a Thump!
And then I felt one.
After a couple of swear words from me that are not suitable for this forum and an "Are you alright?" from my husband, I heard him laughing.
I had fallen out of bed right after our Dacshund, Molly. She got up and scampered away obviously dazed and confused at the rude awakening, her nails, "tick, tick, tick" on the floor.
Emma, the Shepherd/Rottweiler mix I fell on was trying to get out from underneath me, and Sade the Pit Bull was licking my face.
I found myself wedged between the log bed frame and the dresser, unable to move.
Ok. You can laugh, I am now. But I wasn't laughing with my husband then.
I've had plenty of occasions to laugh when he's fallen out of bed, which I would say, averages at least once a year. My husband is famous for falling out of bed in his family. The first night in his "Big Boy Bed" as a toddler, he fell out and broke his collarbone.
I know he couldn't help the giggles, because when I hear him falling out of bed, I usually can't.
This is yet another lesson of living in a small house. You see, as our marriage has progressed through the years, our beds have steadily gotten smaller, from a King sized waterbed (I know, it's so 70s & 80s), to a Queen, now to a Full as a Queen wouldn't have allowed for a dresser.
This, while our body sizes haven't gotten any smaller, nor have the amount of bodies in the bed (we've always had pets sleeping with us). I often wake up sleeping on the edge of the Full sized bed in The Little House, but have never fallen out.
Emma finally wiggled out from underneath me, seemingly no worse for the experience and I finally convinced Sade to quit kissing me.
I imagine she was thinking, "What a treat! Mom's come to sleep with us on the floor!"
I got my body turned so I could get up, albeit I was in quite a bit of pain as my arm, index finger, foot and leg had hit the dresser on the way down.
I went into the living room and comforted Molly, who seemed in better shape than me. I wiggled all my toes and made sure everything was still bending and after a bout of nausea from the pain in my foot, was finally able to get back to sleep two hours later.
The moral of the story here for the folks who are thinking about building a small house, is to do plenty of thinking on the size of your bedroom.
Take into consideration the size of bed you need to be comfortable and always leave yourself plenty of landing room should you fall out of bed.
I can't even remember the last time I fell out of bed. How about you? Or, can anyone explain why it's funny when someone else falls?