For Writing and Storage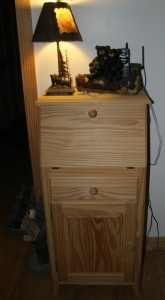 People have asked me how to find furniture for such a small home. When we were building The Little House, we had planned on using it for weekends and vacations and eventually, a guesthouse. We needed something functional, but we wanted it to be cute as well.
We found two foutons that looked like they belonged in a cabin and fit our woodsy décor. We used one in the bedroom, where I was able to fold it up when not in use and use half the bedroom as an office. The one in the living room was eventually moved to The Belle Writer's Studio and we took the one from the bedroom and placed it in the living room of The Little House so we could still sleep a guest there if need be.
Another of my most favorite finds is this desk above. Before we lived here full-time, it was a good place to store our documents for the house, bills, newsletters from the fire department and magazines.
After we built The Belle Writer's Studio, all of those documents were transferred to the office.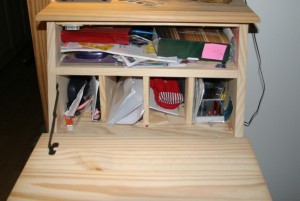 Still, it's nice to have this little desk in the living room of The Little House. Right now, it is kind of a catch-all that needs to be cleaned out, but there are times when I need stamps and envelopes and stationary in the house. As well, the drawer is a good place to keep the small telephone book (yes, in a rural area, we still use the old fashioned phone book!)
The bottom of this tiny desk can hold my purse, more reference books and the corded telephone, which is needed when we lose power.
We found the lamp sitting atop this little desk at a log cabin show in the city and this is the light we keep on for the dogs if we'll be returning after dark. Dale's dad and stepmom found the little bears in a store in their part of the Ozarks near Lake of the Ozarks.
On Friday, I'll continue the tour of my favorite things in The Little House!
What do you use for a desk or storage area for mail, magazines, etc?