Visualizing Your Dreams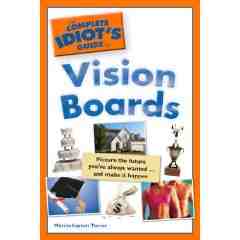 This week, I'm blogging about the power of positive thinking, or The Law of Attraction, which, as I explained in my post on Monday, is not some magic wand that will make all of our dreams come true, but is instead, a roadmap that helps us attain the goals we want for our lives – like moving to our own little dream home.
Successful business owners don't have successful businesses without a business plan, a roadmap to help them attain their goals for their business.
Vision journals and vision boards, as it relates to The Law of Attraction in our lives is much like our life's business plan. We outline our goals either in written or picture form and then we grasp the opportunities that come our way that help make those things happen.
As I mentioned in my post on Monday, I began a vision journal just before our move. I wrote about what I wanted to happen in our lives everyday. When those dreams I had written became a reality  – and actually proved to both my husband and myself that it could – I stopped writing.
I also blogged that about a year into living our dream things here started to go askew.
Part of it was due to the economy. I mean we are in the midst of what the media is calling The Great Recession. My husband was laid off from that dream job I wrote about in my journal and then he was laid off from a second job.
However, part of it is that our dreams became muddled as well. I hadn't taken the time I really needed in 2007 to grieve my mother's passing and once here, I was missing her, my friends, and many thing about living in the city. At the same time, Dale also missed his friends and his steady job, of course.
Our minds were stuck somewhere between our old home and our new one.
We were also so focused on our first set of goals – getting here and getting settled – we never set our sights further.
We made three big mistakes in our life vision to attract positive things into our lives:
I no longer wrote about our goals because I didn't know what they were anymore
The perceived negatives had us thinking less about gratitude
We didn't look at those perceived negatives as opportunity
This year, I took a step back, re-watched the DVD, "The Secret," took that further and watched "What the Bleep do we Know?" which helped fill in the holes about where gratitude, love and spiritual faith fits in for me.
I also found the book, "The Idiot's Guide to Vision Boards," by a colleague of mine, Marcia Layton Turner.
A vision board is the pictorial partner to my vision journal. Instead of journaling a life plan, it's visual.
I'm now focusing more on the gratitude, trying to view the perceived negatives as opportunity and I'm setting new goals/vision for my life. I've never been too artsy, but decided to give the vision board a try this time. I do have one wall across from my desk in The Belle Writer's Studio that will be perfect for it.
After reading the book, I was very excited and contacted Marcia. She was kind enough to answer a few questions about vision boards:
1). The Secret was a major seller several years ago, is this how you came up with the idea for your book? Do you have a vision board?
Marcia: No, although I listened to The Secret on CD two or three years ago, it was not the catalyst for the book. I began researching vision boards after a friend invited me to a vision board class a local artist was hosting, prompting me to investigate the science behind the boards. The more I learned, the more I thought there might be a book-length work in it, so I pitched it to my agent, who sold it to Alpha.
Yes, I do have a vision board – the first one I created – and am now in the process of updating it. Since preparing that first one my goals have shifted and I've learned so much more about what works and what doesn't that I need to revise it (hint: be very literal about the images and words you use rather than general).
2). You say in your book that one of the problems with The Secret was that it made things look too easy, that it didn't map out that you have to actually work at attaining your vision. If you have to work at it, how is having a vision board different from just having goals?
Marcia: Good question. A vision board is a visual representation of your goals, which helps you imagine what it will be like to attain them. Those images are both reminders of what you're striving for and a road map for your conscious and subconscious mind to help you recognize opportunities that are presented. Let me give you an example of how vision boards can make you hyperaware of opportunities to succeed.
You could set a goal to buy a new BMW by the end of the year, and you could even write that down and place it on a bulletin board. But that's not as powerful as getting a brochure of the exact BMW model you want, in the color you want, and placing it on a vision board. With your brain constantly reminded of that image, you will begin to spot that model BMW on the road, everywhere. You will also start to notice ads offering special pricing incentives or trade-in offers, as well as other moneymaking opportunities that put that car within your grasp. Your brain is very visual and the process of visualization, which even the Olympians use, trains your brain to point out ways you can achieve your goal.
It's really all about focus. Showing your brain an image of what you want triggers a focus that can lead to success if you pay attention. Images are much more powerful than words alone.
3). I was hoping you would address couples and how they should do their vision boards. Should they be separate or should the create one together? How do they mesh their dreams into one?
Marcia: Couples can create separate vision boards, which many do, or a board that represents what they want together. The key is confirming that both individuals picture their goal(s) in the same way. For example, if one wants to retire on a beach, but in the Caribbean, and the other agrees that they want to retire on a beach, but the beach they're picturing is Cape Cod, they're going to have a problem achieving that goal. I'd recommend first talking through goals and then separately gathering images to go on their individual or joint vision boards. Compare the images to reaffirm you're on the same page before affixing them to a board.
Some dreams and goals need to overlap, such as where you want to live, how long you want to work, etc., but others don't. Hobbies you want to develop or self-improvement activities you want to adopt do not necessarily need to be something you both do. But you'll want to discuss them to make sure they don't preclude something that your other half wants to do – such as if one of you wants to try a restricted calorie diet for a month and the other wants to plan a gourmet tour of France.
Constructing a vision board can be a great way to check that your goals are in alignment and, if not, to discuss how to bring them back into harmony.
________________________________________________________
The rest you will have to learn through Marcia's book, one of which she will be giving to a lucky reader of Living Large. Just go to the comments section on this post between now and the post on Friday 2/26 (which goes up at 5 a.m. CST) and tell us a few things you would put on your vision board. I will draw one lucky poster from the comments and announce the winner on Friday afternoon in a separate post. You do have to be a U.S. based resident to win.
Stay tuned on Friday, as I will have a guest telling us about how she uses The Law of Attraction in a group setting.