Restaraunt Quality Food at Home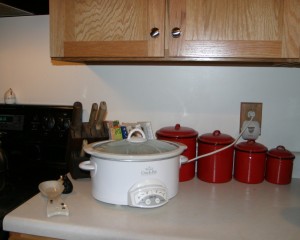 S.A.B.L.E-Please contact me this weekend with your address or I will have to draw another winner for the Sanyo batteries and charger!
_____________________________________________________
There hasn't been a whole lot to do around The Little House since winter socked it to us in the form of a 12-inch snowstorm last week. Although the weather was a bit warmer and some of the snow melted off, another storm hit us yesterday which is taking the form between rain, freezing rain and they say, snow later this afternoon.
This is where working (writing), reading, gathering stuff for taxes and cooking comes in.
Last Saturday, on the second day of being snowed in, we watched a couple of favorite movies from our collection, which brought up the topic of our old lives in the city. We decided if we were still there on a cold wintry day, we would probably would have been sitting at our favorite Mexican restaurant with our friends and neighbors who lived across the street from us, enjoying a pitcher of beer or margaritas.
Dale and I both love food and when we were in the city, eating out was one of our hobbies.
There's nothing like not having restaurants (or being snowed in from the few we have) that has made us learn how to prepare some restaurant quality food of our own.
We've probably cooked at home more in these past 2.5 years of living in our little house than we had in all of the previous years of our marriage combined!
That's a good thing and it's definitely an advantage of living in the country and cutting out some of the unnecessary spending. While going out every once in awhile is nice, we've learned a few lessons by cooking our own meals.
We can control the portions, which are way too huge in restaurants.
We can also control the ingredients, the biggest of which is salt. Sometimes when we do get something out now, it just tastes way too salty for our new tastes. This is definitely also healthier.
We can make our own combo platters! No more disliking a portion (and wasting) the meal.
Still, when our former neighbors called us last Sunday, and said they had, in fact, been at our Mexican restaurant on Saturday afternoon, we were a little envious – and hungry for one of their combo platters!
If you've cut out or cut down on dining out, what are some of the advantages you're seeing?
Dale and I love this recipe and yesterday was a great day to have something cooking in the crockpot.
This chicken tortilla soup recipe is a variation of a recipe I found in my favorite crockpot recipe book: page 47 of "The Fix it and Forget it Crockpot Cookbook." It's a bit spicy, but oh, so good. Enjoy!
4 chicken breast halves (we've also used ½ pork tenderloin cubed)
2 – 15 oz. Cans black beans with juice
2 15 oz. Cans Mexican stewed tomatoes or mild Rotel
1 cup of salsa (we use mild)
4 oz. Can of chopped green chilies
1- 14 oz. Can of tomato sauce
1 diced onion
1 tbspn. Cilantro
2 – 14 oz. Cans of hominy
tortilla strips
grated sharp cheddar cheese
sour cream
Put about 1 tblsp. Oil into a hot skillet and brown whatever meat you choose to use. Brown the diced onions and add meat and onions to crockpot. Combine all of the rest of the ingredients in the crock pot except the hominy, tortilla strips, grated cheese and sour cream. Cook on low for 8 hours. ½ hour before serving, drain the hominy and add to the mixture. Put the soup into bowls (we let it cool for about 15 minutes). When ready to eat, put some tortilla strips along the side of the bowl and add a handful of shredded cheese and a dollop of sour cream to the top.