Doing the Wave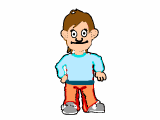 When we first moved to our Little House and began taking routine trips into town, we noticed something pretty odd to a life long city dweller: People waved at us whether they knew us or not (and we didn't know many people here).
At first I thought these were Dale's new co-workers, but he didn't know most of them either.
Not noticing this until after we moved might seem strange, given we had owned our house here for four years prior, but when we came here for weekends and vacations from the city, we did all of our shopping before leaving home. We were here to rest and decompress and didn't want to spend the time we had driving to and from town.
Even if we were going to town for something, we probably were still in the city mindset focusing on the destination rather than the journey, just wanting to get there and back.
Besides, if you wave at someone in the city you don't know, you're pretty much looked upon with suspicion, even in a friendly Midwestern city such as KC.
On our leisurely trips into town after we moved, we also noticed that people usually have their own "signature wave," something they do to every car passing.
There's the 1-finger wave (no, not that finger), where the person usually just raises his index finger from the steering wheel as you pass by. We've come to believe these people want to be friendly, but don't want to put a whole lot of energy into it.
The 4-fingered wave where the driver of a passing car exerts a little more energy lifting four fingers off of the steering wheel. This is sometimes accompanied by a smile and a nod of the head.
Or they might do the tip of the hat thing or head thing, where they actually see you coming in advance and give a little salute, tip their hat or nod their head as we're passing
I told Dale when we first moved here we couldn't be labeled as "flatlanders," or "city folk," we needed to develop our own friendly waves.
He's more of a nodding of the head type and I'm a 4-finger waver.
I've noticed on the last few trips into town that fewer people seem to be doing the wave as when we first moved here, making me think that the trials and worries of the outside world and economy has come home. People are simply too deep in thought to even do the 1-finger wave and like people from the city, are focusing on the destination more than the beauty of the ride.
I hope as things improve though, that our neighbors get back to focusing on the beauty of the drive.
After all, they say the journey is what it's all about.
Are there any quirky things you've noticed about your surroundings or the people?