Day Person or Night Person?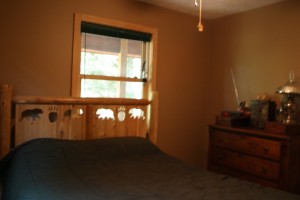 One of the challenges of living in such a small space with someone else is finding a sleep routine that best suits you both.
My husband is a night person, he can stay up most of the night be it working or watching television.
When we lived in the city, he was a night supervisor and loved every minute of it. He usually got home around 4 a.m. and would come home and watch television until he fell asleep, which didn't bother me as the family room was downstairs.
I usually even got up and read my paper when he got home.
During our marriage, my routine has been a mixture. When I was in the corporate world, I always worked days, but when I worked on staff at the newspaper, I covered cops and courts and since many of the bad crimes happened at night, I was more of a night person.
However, since we've moved to The Little House, my routine has been on the same schedule as Dale's, which, when he is not laid off, has been very early. I've also suffered from insomnia, which is something that actually started before our move, when my mother was sick. I understand insomnia can become a habit and it has for me.
I think part of my problem is that I haven't found my own natural rhythm. I've had schedules that have dictated to me that I be a morning person for so long, I'm not sure if it is right for me.
Now that Dale is looking for work again, he's fallen back into the natural rhythm that suits him, which is staying up all night watching television, and that's not helping my insomnia.
While we were smart enough to design The Little House so it has a separate bedroom, we didn't take into account that we would be heating with the wood stove during the winter, which is located in the living area. No closing the bedroom door unless I want to freeze at night.
Right now, I'm just trying to figure out if I'm naturally a day person or if I've been a day person just because I've been forced on a day routine for so long.
One of the benefits of being a freelancer is that I'm supposed to have the luxury of allowing my body to work when it wants to and sleep when it needs to, not necessarily because a clock is telling it to.
It sure would be helpful if Dale and I could get – and stay – on the same routine.
And if this post isn't making any sense at all, give me a break. I'm sleep deprived.
Have you had issues figuring out if you're best suited to days or nights? How do you learn if you're a natural day person or night person?