Choosing Paint Colors is Draining
It's time to paint the inside of The Little House. There's 5 very good reasons for embarking on this project now:
It's winter and there's little else to do.
Dale is home.
When he is working, he is too busy to do much around the house during the week, and he wants to spend his weekends on the lake.
We're tiring of the "eggshell" white we chose when The Little House was built.
It's been nearly 7 years, so it is time.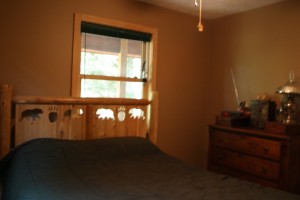 Dale is the painter in our family. He painted the entire Little House over the course of a weekend during the finishing phase. The house had yet to get the window air unit, so he worked through the nights in the heat of August that year to get it painted.
My post on Monday shows our bedroom, which Dale painted during his winter lay-off last year. Before we sold our house in the city, our realtor recommended a complete paint job of all the rooms in all the same color. The paint his painter chose was between a beige and brown, not unlike the paint we saw going into new construction at the time.
We loved the color and wanted to paint The Little House in the same hue, but when we went to find the color for the bedroom last year, the local paint store franchise didn't have it.
We went with the darker color shown in Monday's photo, which I think is perfect for the bedroom. I like it dark and that color makes daytime naps more shaded and even the blackest of country nights dimmer.
Dale thought it too dark, but I talked him into keeping it. However, we do agree it too dark for the rest of The Little House.
I've decided to match the bathroom with a very light beige that is in the shower curtains.
However, we're at a loss what to do in the combined living room/kitchen. My color scheme is red and black (remember all of those black bears). The kitchen counter is white with red and green splashed in the towels and canister set. My appliances are also black.
We don't want anything too flashy or eye-popping (Remember, Dale is the safe, white paint type) and we can't go too dark due to the size of the room.
Any thoughts on paint colors readers?