Trash Talk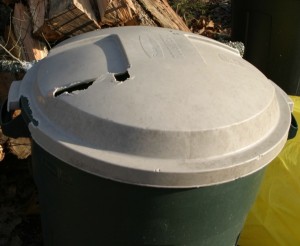 This is Lesson #1,056 of live in a Little House and Lesson # 2,468 of living life in the country.  🙂
We knew when we moved to The Little House that if we didn't secure our trash, we might be in for some unwelcome wild critters. This is really no different than the city, where lose dogs might get into the trash.
Not having a lot of space in The Little House also means we don't have a lot of space for a big trashcan.
Although we've tried to reduce the amount of waste we create, we still find ourselves needing to remove the bag from our little trashcan under the kitchen sink at least once every two days.
Since we don't have trash collectors way out in the big woods, we have to take our trash to the fire station once a week, or drop it at the landfill's transfer station when we're in town.
We bought three large plastic containers (pictured) after our move. They sit across the driveway from The Little House next to the woodpile and up until this fall, we never had a problem with critters wanting in them.
A couple of months ago, while walking from The Little House to the Belle Writer's Studio in the pre-dawn of morning, I heard something moving in the brush near the cans. The big dogs went wild and their noses led them on a search that lasted until mid-morning.
A couple of days later, Dale found holes in the tops of two of the cans.
Dale was supposed to have built an enclosure for the these plastic bins, but that is something that has never been checked off of his to-do list.
I know, plastic is harsh on the environment when being produced. I'm sure we will find some other use for them rather than throw them into the landfill.
We've learned more lessons associated with our new life in our Little House in the country, underestimating the sharp little teeth of the wildlife, as well as the tenacity it must have taken to avoid the dogs and chew through the tops of the cans.
Any ideas on which type of metal cans are good and where to purchase them?