The One Coat I Wouldn't Live Without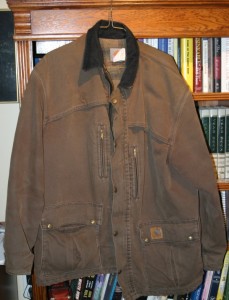 In contrast to last week, this week has made us want for spring. I love these early thaws in January that helps break the winter up. On top of the 50-degree temperatures that's taken our snow and allowed me to hang some laundry on the line, the days are slowly becoming longer.
I now walk home from the Belle Writer's Studio with a sliver of light still slicing over the top of the mountains.
Last week was quite different. I dug my Carhartt coat out of the utility closet and even for the 100 yard walk from The Little House to the Belle Writer's Studio, I was very glad to have it when it was 5 below.
The weather here renewed my love of my old barn coat and made me again glad I chose it among the several coats I had back in the city as the one to keep.
For 10 years, this coat has been one of my favorite pieces of winter wear. It might not be pretty, but it is functional. I found it at the local farm and home we frequented in Kansas City. We leased land a few miles from our suburban home and I had to go up to the barn twice a day, 365 days a year to feed and check on our horses.
Kansas City winters can be brutal and I needed a good, heavy coat to wear to the stables.
My husband has long loved Carhartt products, as he works in unheated garages and sometimes outside. They're warm and made in the U.S.A.
In the winter, my barn coat not only kept me warm, but also played a part in helping me escape an attack by a horse. During one evening feed, a particularly mean horse I had named Santana (note not far off from "Satan" in name or attitude), charged me and proceeded to pick me up in her mouth, grabbing me just below the collarbone on my left side and flung me back four feet. I hit the ground, wind knocked out of me and in shock. If it weren't for our German Shepherd/Rot mix rescue, Emma, who got in between us barking and nipping at the horse's legs until I could get back on my feet, the horse would have likely stomped me, possibly to death.
And if it hadn't been for the thickness of my Carhartt coat, she likely would have broken the skin, and possibly crushed bones in the process.
Last fall, Dale and I attended a cast iron cooking class. It was held on a Saturday morning at the state park nearby and it was quite chilly, even if we were around the hot briquettes.
This one woman took quite a fancy to my coat, ooohing and ahhing as if I were wearing an expensive designer jacket. She kept going on and on, asking me where I had gotten it and saying she was going to have to get her husband to buy her one for Christmas. Afterwards, I noticed while in town that Carhartt is really the jacket and winter wear of choice here, for men and women. I can wear it on trips to town and wear it when we are stacking wood.
We're in a lake resort area, so even our "nice" restaurant requires only casual wear. I knew when we moved here that my Carhartt would definitely be the heavy winter coat I unpacked for the limited closet space we have, but I hardly thought it would be a fashion "in!"
I've never had a piece of clothing so versatile. It's insanely warm. It's helped keep me safe and I feel in style, even though I haven't cared about that for a very long time!
If you had to choose one piece of clothing to keep what would be your favorite and why?