How Far Should a Leap of Faith Take Us?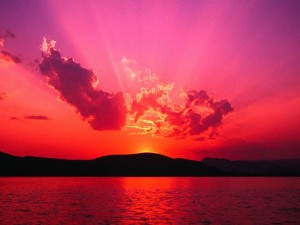 What is faith?
That's a question my writing colleague, Jennifer Haupt has been asking on her blog.
Jennifer says faith is "daring to do something, daring to believe, regardless of the consequences."
My definition comes pretty close. For at least the past three years, faith has been about watching the signs and making moves I wouldn't have ordinarily taken.
It was on faith that we made our move to The Little House.
Dale and I aren't gamblers, well, good ones anyway. A couple of losses on bad investments and a couple more misses on what would have been homeruns in our younger years made us a little gun shy.
Even our one trip to Las Vegas remains the "trip from hell." Nothing went right from the moment we stepped off the plane, least of all the gambling part.
So when Dale came home from work on Friday and told me that for the second time in as many years he had been pulled aside by his bosses and told he was being laid off due to the economy, I began to do more thinking on faith.
In the past two years we've weathered (pun intended) the challenges such as the tornado that hit our area, the record flooding, and the devastating ice storm that left us without power for 8 days.
We handled our grief and guilt over the fact our two elderly cats just couldn't handle the move and we lost them soon after.
We've tried to move past the fact my aunt's husband got angry and has refused to speak to us for the past two years, making our isolation from family here seem even more pronounced, especially on the holidays.
We've even adapted to a life changing medical diagnosis.
I've even come to embrace John Lennon's words in the song "Beautiful Boy." Life is indeed what happens to you when you're busy making other plans. Not everything has went according to plan (well, almost nothing) and most of it has also presented new opportunity that we couldn't have imagined. That's part of Living Large.
So why is this job thing testing my faith?
Besides not being huge gamblers, we're also not into drama. I enjoy things being on such an even keel that for the 17 years we lived in our house in the city, I only rearranged the furniture once. Prior to our move to The Little House, my biggest leap of faith was leaving the security of a 9-5 job for the life of a freelance writer.
So, leaving the community in which we grew up, a job that had provided for us for 23 years, and our friends and family was definitely a leap of faith.
We waited to take the leap until our house in the city had doubled in value. Even with my having a list of solid clients, our house sold and savings secure, Dale didn't make his final move and resign from his job until he knew he had landed a position here (and his first job here did pay well above what he expected to make in this part of the country).
But then came 2008 and the economic meltdown.
There are the bumps in life and then there's the great big craters that threatens your very existence.
For the past three years, we've toasted away the old year on New Year's Eve, renewing my faith that we could have just one year to enjoy our new life here without the drama.
This year, I got to hold onto that hope for a mere 8 days.
Should faith be about "daring to do something, daring to believe, regardless of the consequences," or is there a time when you should start considering the real consequences, and continuing to have faith just becomes fool-hearty?