Filling the Space in Our Hearts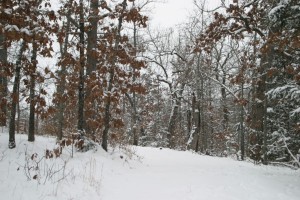 Before I get to this morning's post, I wanted to show you photos of the real snow we got yesterday. The Christmas Eve dusting was nothing compared to this snow, which measured 4 inches and it is still snowing this morning. This would be a good day for Dale to be retired and not have to brave the roads to work.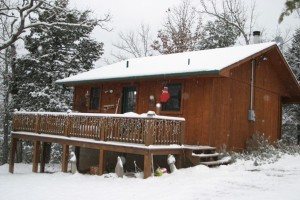 Now for today's post…
We entertained in The Little House on New Year's Eve, not because I really wanted to, but our neighbors have us down to their house quite often and my mom taught me it was nice to reciprocate. Besides, Rae, our friend and neighbor told me it was time. "We're coming down to your house next time we're down," she said. They still live in the city and are down at least twice a month.
I suggested they come down for dinner on New Year's Eve, but I also reminded her there's a lot more room at their house.
"You know we don't care about that," she said. I know they don't mind the small space, but at our house, it's a bit tight and I think everyone must feel as if they're in an airplane seat when they're trying to eat. Our small drop leaf kitchen table is just 21 inches wide without the leaves and 42 inches long. As well, it's pretty hard to cook when there's extra people in the house. Cooking in front of others makes me a bit nervous, even when I have plenty of space.
It isn't as if we don't carry our weight with the food when we go to their house. We always try to take drinks and our share of the meal, and sometimes I prepare the entire meal and just take it down the road.
In the nice weather months, it's not a problem and I love entertaining outside. The party deck offers ample space for everyone to move around.
At Fred and Rae's, we can have drinks and appetizers at the bar, move to the dining room table to eat and then move to the living area and sit in front of the fire. At The Little House, we huddle at the small kitchen table for appetizers and dinner and then move to the sofa and chair on the other side of the room. Oftentimes, it is too hot, as we cannot control the heat from the wood burning stove as you can on a thermostat. If the oven is going, it creates even more heat.
So, I told her to dress cool. I baked the dessert early in the day and fixed a dish that is low fuss. I laid out everything I would need, as once the leafs are up on the small table, there's no getting out of the kitchen (that's why there's no photos of our gathering, I had left the camera in the bedroom!) and allowed the fire to die down a bit in the wood burner.
It was….perfect.
We ate my homemade guacamole for appetizers and had drinks. I served pot roast with vegetables and rolls, and a low sugar chocolate cake for dessert. The bowl of vegetables fit on the table and I served the meat and cake from the kitchen counter. Afterward, we moved across the room and enjoyed a movie.
You can see from this photo that appeared with our story in Mother Earth News that there isn't a lot of physical space, but what counts is that our hearts are filled when friends and family gather.
What do you enjoy or not, about entertaining in your home?
Recipe for Pot Roast
3-4 pound beef chuck roast
Water
1 tbsp minced garlic
1tbsp fresh ground pepper
1 large onion (2 slices and the rest diced)
1 sm. bag petite carrots
7-8 large potatoes (cut in small chunks)
3 celery stalks
2 cans golden mushroom soup
Sear both sides of the beef roast in a large pot, putting ½ each of the garlic and pepper on each side. Pour in enough water so that it comes half way up on roast. Add both cans of soup and stir. Add diced onion and place the two slices of onion on top of the roast. Cover and simmer for two hours. Add carrots, diced onion, potatoes and celery. Cover and continue to cook for 1-1/2 to 2 hours more, or until vegetables are tender. Remove roast from pan, allow to rest for 5-10 minutes (be careful, your roast should be falling apart tender at this point!) Serve with vegetables and use liquid to pour over meat and potatoes.