All Burned Up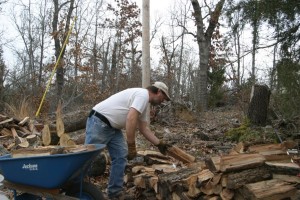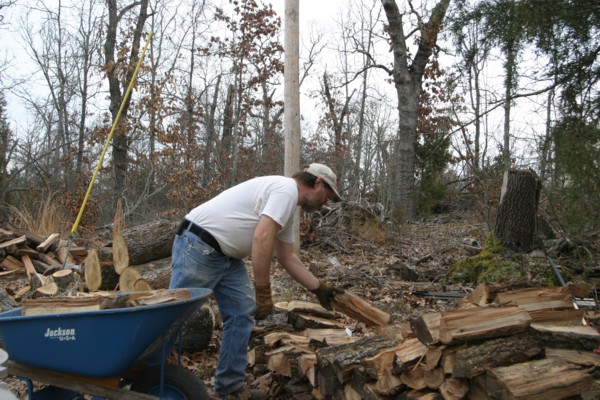 I love heating with the woodstove, as I've noted before, it kept us warm and fed us hot meals during the 8-day power outage through the ice storm last year. Especially this year when our finances have been tight, I've been glad that our electricity or propane costs haven't skyrocketed trying to heat our home.
All it has taken to keep our home warm this year is some sweat equity and it has proven to be a lot of work for these former suburbanites.
Besides cutting, splitting and stacking, it's an ongoing chore each day feeding the woodburning stove and keeping it going, especially when I spend most of my time in The Belle Writer's Studio where we have a heat pump heating system. I have to remember to go and check the stove in The Little House every 2-3 hours and make sure it is still keeping the house warm.
We burn an average of three wheel barrels full of wood each week, but during the harsh cold blast and snowy days at the end of December through the first of January, the stove was eating the wood much faster. Dale was doing good keeping up with the chopping and splitting each weekend.
That changed last week. Luckily, it turned warmer and we have even been only feeding the stove with little pieces of wood at night to take off the chill. Dale also has more time, which is a positive to his employment situation. There's always something to be done  at Campbell Town.
He's been concentrating his efforts on retrieving and cutting up trees that fell during last year's ice storm, trying to get our winter wood supply stocked for the rest of this year, as well as picking up trees our friends and neighbors have voluntarily downed so it can begin to season for our heat for next winter.
This area lost so many trees during the ice storm and wood became a real overstocked supply. I know a cord of wood can go for up to $150 in the city, maybe even more now that it's been a few years since we bought it, but people can hardly give it away here. Regularly, we will see ads in the paper for people offering free wood, if someone will only cut it and haul it away. Last week, one of our friends literally begged Dale to come and take what he had already cut from his property.
We've learned a few things about heating with a woodburning stove that might prove helpful to someone who will be doing it next year:
Even if a tree is downed, the wood doesn't season well unless it is chopped and split. If you want seasoned wood for next year, you should already be chopping and splitting today.
Buy the proper tools. We found our dinky chain saw, made more for small trimming chores in suburbia, was no match for cutting up entire trees. Dale's dream saw is approximately $500. Same goes for a log splitter, a good one is expensive. While Dale is still agile enough to hand split, he could not get the volume we would need split for an entire winter. Luckily, we have some very good neighbors who have loaned us their chainsaw and splitter this year.
Having the flue inspected and cleaned at least once a year just doesn't apply to fireplaces. We failed to have the stovepipe cleaned this year and can hear the creosote sometimes falling down the pipe. Fires terrify me. Well worth scraping up the $100 or so.
Keep some summer t-shirts and shorts handy. If you have a quality stove, it may heat up quicker than you would ever expect!
The amount of dust these things generate is amazing. Be prepared to clean often!
If you heat using a woodstove or fireplace insert, can you think of any other tips?