Books at The Little House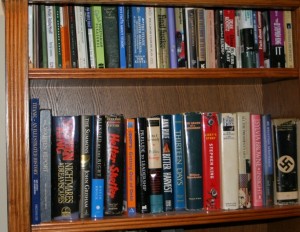 My mother wasn't just a reader, I came to believe that books, more than even food, sustained her. It wasn't uncommon for her to read 3-5 books a week.As her illness made her weaker, her pace slowed, but she still read. And even when she was in the hospital for the last time, she had a book with her. It was Barack Obama's "Audacity of Hope." I had given it to her for Christmas just a month before her last illness set in. My mother was interested in politics of all kinds. The book still marks the spot to where she could read no more.
My mom taught me to read even before I started Kindergarten. The first "big" book I ever read was "Jonathan Livingston Seagull."
When I started school, I couldn't wait for library day. I wanted a coon dog so badly after reading "Where the Red Fern Grows," was transported to WWII through Anne Frank's Diary and started my love affair with true crime reading the copy of "Helter Skelter" that came as my mother's Book of the Month Club. I entered puberty reading Judy Blume, was captivated (pun intended) by "Sweet Hostage" and slept with the light on for a week after reading "Carrie" and "The Shining."
Those original copies of "Jonathon Livingston Seagull," "Sweet Hostage" and "Helter Skelter" are still on my bookshelves today.
From comments I've received here, books seem to be the space sucker for most of us. I go through my books periodically, deciding which ones I can take to the used book store in return for more (I'll be doing this again next time I go to town).
I also borrow some from the library, as well as get them from fellow book club members.
Winter is the time I usually catch up on some reading. Although I joined the local book club when I moved here, I just haven't gotten much reading done, even in the winter. Life has just been too crazy. This year, I've made it my goal to get through more books. A friend inspired me when she came within 1 book of making her goal of 52 for last year. My goal is a bit more modest, I'm hoping for 26, one every other week of the year. I began with our book club pick for this month: "The Help," by Kathryn Stockett, which was an excellent read and I've added it to my shelves.
I'm now moving on to a Dean Koontz book I recently picked up, "The Longest Evening of the Year."
Let me know if you would like to follow our book club picks and I will post them here each month. For February, it is "The Book Thief," by Markus Zusak. If I make it through all of these, I'll be three books into my goal by the end of January!
I've posted some of my all-time favorites that will never leave my bookshelves. You can scan my list and if you have any to add, I'm always open to suggestions, though I will run out of room soon!
Fiction by Stephen King
"The Shining"
"Pet Semetary"
"Bag of Bones"
"Carrie"
"Duma Key" (newer one set in Florida, great departure for him)
General Fiction
"Sweet Hostage," by Nathaniel Benchley
"Jonathan Livingston Seagull," by Richard Bach
"Sybil," by Flora Rheta Schreiber
"Jaws," by Peter Benchley
"The Celestine Prophesy," by James Redfield
"P.S. I Love You," by Cecelia Ahern (the movie was forgettable)
"Where the Red Fern Grows," by Wilson Rawls
"The Help," by Kathryn Stockett
General Non-Fiction – I'm a big true crime reader, so anything by Anne Rule.
"No Immediate Threat: The story of an American Veteran," by Kerri Fivecoat-Campbell (you really didn't think I would leave my own book out, do you?)
"Bury My Heart at Wounded Knee," by Dee Brown
"Helter Skelter," by Vincent Bugliosi
"In Cold Blood," by Truman Capote
"The Audacity of Hope," by Barack Obama
"Remembering Mother, Finding Myself," by Patricia Commins
"Nobody's Child Anymore," by Barbara Bartocci (These two books are great for adults who have lost their parents)
"The Green Year," by Jodi Helmer
"Riding in Cars with Boys," by Beverly Donofrio
"Still Life with Chickens," by Catherine Goldhammer (she starts life over in a tiny house).
"The Diary of Anne Frank." (Possibly the most important book of the 20th century).
Books for Writers and Business
"Writing Down the Bones," by Natalie Goldberg
"Bird by Bird," by Anne Lamott
"On Writing," by Stephen King
"Crazy Bosses," by Stanley Bing (this book really helped me deal with the lunatic bosses I had in the corporate world, as well as manage some relationships outside of work. Excellent book!)
"Query Letters that Rock," by Linda Formichelli and Diana Burrell
"NO: The Only Negotiating System You Need for Work and Home," by Jim Camp
"Guerrilla Marketing in 30 Days," by Jay Conrad Levinson and Al Lautenslager (this is particularly of use if you're marketing a book).
What are your favorites?