Trying to Live by Our Own Set of Rules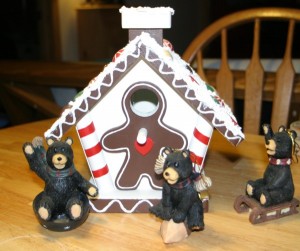 We had to make a new rule at The Little House last weekend. Nothing gets thrown on the kitchen chairs or on the kitchen table unless we want it thrown away.
Ok, so that's a little extreme, but the mess that had built up on the table, which is the place we seem to toss everything we don't want to deal with, had become extreme.
My cousin called on Sunday to say she was stopping by before heading back to the city and I had yet to clean off the week's worth of mail that magically built up on the table. As well, Dale had clothes thrown over the back of the chairs, and the place looked messy.
I had to whirl around like a dervish trying to get everything in order before company arrived. At least that got done, so I could put my cute little gingerbread house out on the table (pictured above).
Picking up everyday isn't a new rule, but threatening to throw anything out that hits the table is, and it was just as much for me as it's my job to deal with all the incoming mail.
Mail is the bane of our existence at The Little House and if I get busy, I am guilty of just throwing it on the table.
I've managed to stop some of the junk mail by going to Catalog Choice, registering and then updating our opt out option each time we get a new one I do not want nor need.
However, 'tis the season, it seems, to hear from places I've never heard of (nor wanted to) and I've gotten at least a dozen new ones I've had to add to the list at Catalog Choice.
That's irritating enough, because it takes my time to enter the catalogs, rip the mailing labels off for shredding and it also takes up more space in the recycle pile in the garage.
What's even more irritating is getting junk mail for my deceased parents. My mom was a catalog maven, she didn't drive, so did most of her shopping by mail, and I'm still removing her name from lists each month trying to stop the onslaught of junk mail that followed her name to our address.
If that isn't bad enough, I've just recently started receiving junk mail for my father – who has been dead now for over 28 years!
Last week, I received a pre-approved life insurance offer for him. The outside of the envelope read, "Mr. Frank Fivecoat, this is the second chance you've been waiting for!"
Dale and I laughed so hard, I almost wet my pants, musing how my dad must have qualified for such a second chance. We also wondered if they would let us fill out the "pre-approved" application, make one premium and then claim the insurance. (This might seem morbid to some of you, but after nearly 30 years, the loss is no longer raw and I know my dad would have found it funny).
Still, I had to deal with the junk, so I called the company to get his name removed from the list. The nice gentleman there didn't know how my father magically started appearing on these lists once again, but he also suggested that I contact The Direct Marketing Association, where I can have our names removed from credit card offers and also register my parents on the "deceased" list. It took up more of my time, but I hope, in the long run, it helps stop some of these "offers" we receive.
Now, if I can just get Dale to quit throwing his jackets and shirts over the chairs…..
Do you have any "tricks" to get your family to help you keep your house clutter free?
Stay tuned on Friday for another giveaway…