Time Capsule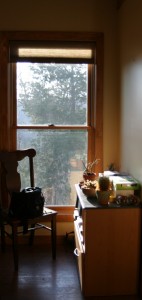 "You can't take a picture of this, it's already gone," Nate's ghost whispers to Claire when she wants to photograph her family in the series finale of the HBO television show "Six Feet Under."
When I was a child, my parents remodeled our Little Green Bungalow by tearing out walls to open more space. Before the wall was sealed with drywall, I placed a letter to the future in the new wall of the kitchen.
I was all of about 9 or 10 at the time, but the letter detailed the house's history (my parents purchased it brand spanking new in 1948), our family's history and our current family members and dogs names. I don't know where I got the idea; millennium time capsules weren't even on the radar in the early 1970s. Perhaps I had heard of some other time capsule project or maybe I got the idea from all of those archeologist books I scanned in my childhood (my mother wanted me to grow up to be an archeologist in the worst way!)
Whatever gave me the initial idea, it was renewed last year watching a show called "If Walls Could Talk," a show that documents people finding cool reminders of their home's history. Old bottles, children's toys lost in floorboards and dropped into unsealed walls, even letters and photographs hidden away for decades and even centuries.
On this show, the walls really do offer a window into the past.
When we were building The Belle Writer's Studio in 2008, I decided to write another letter to the future and drop it into an unfinished wall of my office.
I began the letter, "If you're reading this letter, you most likely own the property that once was our dream. "Our" is my husband and me. We are Kerri (Fivecoat) Campbell and Dale Campbell…" I continued with the history of our family ties to the land, which goes back to 1984, who we are and why we wanted to build here. I tell them this is the office I've always dreamed of, my writer's studio in the woods.
I end the letter telling them that wherever we are as they are reading my letter, I hope that they too have found their heaven here among nature.
I sealed the letter in a plastic freezer bag (something I don't think I did with the one as a child), along with some photos, a couple of my published articles and some web addresses. Since we've been told everything will live on the Internet forever, I assumed someone in the future might still be able to access our online presence if they desire.
Why? I don't know. I've always been in love with history and especially love learning about the places I've occupied and the people who were there before.
Perhaps it is a desire that our family is not forgotten; that little nagging in the back of our minds that wants someone to know who we were and that what we did in our lives mattered, at least to us.
Should anyone in the future happen upon these two time capsules, they will get a glimpse of our present. They will get the picture of us that is already gone.
Have you ever buried or placed a time capsule anywhere? Do you plan on doing so if you're planning on building?