Things That Make Me Go Hmmm (and new movie winner)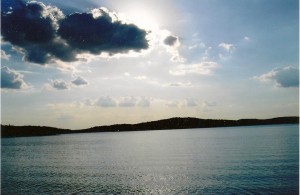 Well, Freth never stepped up to claim these movies, so I drew another winner this morning. BJ, you're the winner of the three movies from a couple of weeks ago! email me at fivecoat@ozarkmountains.com with your address!
Maybe it's the stress this week of trying to get all of my work done before everyone goes out on holiday, or maybe it's the winter doldrums come early, but there have been some random things recently that have just made go "Hmmm."
For example, why do people buy land in the beautiful woods and then cut down as many of the tress as they can? It IS their land and they can do whatever they like with it, but if you wanted a barren landscape, why wouldn't you buy land without the trees to begin with?
We see this all of the time here in the beautiful Ozark Mountains, which is rich with trees of all varieties. Don't get me wrong, it sometimes benefits us when the neighbors indiscriminately take down their trees, as they give them to us to use for our winter wood stock, but taking down as many trees as possible when you've have a place in the woods just makes me go "Hmm."
On a related note, I don't get someone having a tree as beautiful and unique as the 10 ton, double trunk, 76-foot Norway Spruce used at Rockefeller Center this year and being happy about it being cut down from their property. It took this tree decades – at least 80 years from what I've read – for this tree to grow to that magnificent size and it was downed for a few weeks of viewing pleasure.
I know in the end it is going to Habitat for Humanity, but still…I guess I'm just an official Tree Hugger, but I don't see how that land owner cannot look out to where that tree stood and forever see a hole.
My next Hmmm: I don't want to give the impression that I'm a small house "elitist," I like living in a small house, and that surprised no one more than me. Everyone finds the lifestyle that works for them and if living large in a large space is it, more power to you. However, I've never understood the concept of the show, "Extreme Makeover: Home Edition."
I'm all for a worthy family getting a nice new home, especially in light of some of the dilapidated structures they've replaced, but these homes are extremely huge and many times, ruins the character of the neighborhoods that surround these McMansions.
Worst yet is the increase in property taxes for the family, as well as some of the neighbors, who have suffered in the short term from greatly increased property values. Some of the families also cannot handle the increased expenses associated with the huge house, at least six of the families who have received the homes have had to sell or lost the house in foreclosure.  A recipient of one of these homes in Kansas, a war veteran, also recently decided to put their home on the market and leave the town because some people envied them so badly, the family claimed some in town were making their lives miserable. Wouldn't it be smarter to build a house the family could handle and that wouldn't make them stand out in their towns, as well as to help them with budgeting and assisting them with the issues that caused their distress in the first place?
Lastly, does the song, "The Climb," by Miley Cyrus drive anyone else crazy? I mean, she's barely 17 years old and was born into a well-connected entertainment family of substantial means. What in the world would this little girl know about life being a climb? It seems to me she's had a pretty nice downhill ride.
Thanks for indulging me, those are just some of the things that have made my mind wander this week. What are some of the things that make you go "Hmmm?"