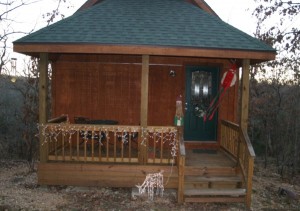 If you cel­e­brate Christmas, I hope you had a very Merry one, and I hope, if you had the oppor­tu­nity for some time off, that you enjoyed some down time with fam­ily and friends, hearth and home.
The thing about hav­ing a small space and cel­e­brat­ing Christmas is that you have to find the room to put the stuff you just got. Granted, we didn't get much stuff, I asked for things I needed from Dale – a bot­tle of good smelling burn­ing oil, some lotions, and sweats (my work wear). We also got a few other things and lots of candy and var­i­ous food items. Still, all of this stuff had to find a home in the pantry and clos­ets to keep to my mantra of "a place for every­thing and every­thing in its place."
Some peo­ple purge items as they get new to keep clut­ter at a min­i­mum. They adhere to the theme of "one thing in, one thing out." That's hard to do for food, you don't want to throw any­thing out that is still good. It's also hard for me to do with cloth­ing as well. I've already purged what cloth­ing I don't need or no longer wear, and those sweats I'm replac­ing with the new only have a few holes in them, cer­tainly not enough to reduce them to rags yet. They are still great for work­ing out in the yard or even just loung­ing around the house.
I found yes­ter­day that this is where the stor­age areas really come in handy. We store any­thing that should go in the house, but we don't use every­day and have no room for, in the base­ment of The Belle Writer's Studio. It's just a short trek from the house to the office and I would rather make the walk and keep my san­ity hav­ing an unclut­tered house.
A friend of mine also gave me a great idea yes­ter­day. She cleans out her fridge, pantries, junk draw­ers, and med­i­cine cab­i­nets before the first of every year. While my pantry stays pretty well purged, it's always a good idea to set time aside every once in awhile and take stock of canned goods etc. and move the old­est to the front to ensure use before expi­ra­tion. There's also no doubt I still need to reor­ga­nize our laun­dry closet – which has shelves we use for stor­age – and the med­i­cine cabinet.
Looks like I know what I'll be doing on New Year's Eve.
How about you? What is your way of bring­ing in the new from Christmas and deal­ing with the old? Do you purge at cer­tain times of the year?