New Holiday Traditions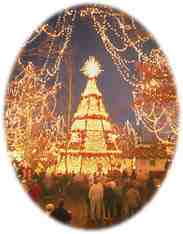 When we moved to The Little House we needed to establish some new traditions on birthdays and holidays.
One thing we had always wanted to do was go to Branson, Missouri during the Christmas season. The Travel Channel calls Branson one of the most "Christmassy Places on Earth," and I agree, that it's hard not to get into the spirit when you're there. Christmas is literally everywhere. We live only a little over an hour away now and we started making Branson a holiday tradition. It's a fun way to get away from everyday life at Campbell Town for a day or even a weekend. This new tradition is also a great way to combine the new with the old – we always go to one of my favorite restaurants, Red Lobster, for my birthday dinner while there – a tradition we've had since my 16th birthday.
The first year we lived here we went for the day, eating breakfast and shopping at the Branson Landing until it was time for my fish fix. The Branson Landing is an outdoor mall set up to look like Main Street in a small town. It has quite a few shops and eateries and is on the banks of Lake Taneycomo. Of course, we don't need more stuff, but I always find it fun to look and for those few Christmas gifts we do need to find, this is a fun place to shop.
Last year, we made a weekend of it, staying at the fabulous Hilton Convention Center, which is near downtown and the Branson Landing. We also visited Silver Dollar City, where the 19th century theme park is decorated for a Victorian holiday. It also has a magnificent 5-story Christmas tree in the center of the park and a Christmas parade each evening.
This place holds a lot of memories for us too. Not only did my parents vacation here and make the theme park part of our adventure when I was a child, Dale and I used to visit Branson for a week each year before we built The Little House. We would rent a cabin on Table Rock Lake and sometimes made visits to Silver Dollar City. There might be bigger and better roller coasters now, but "Fire in the Hole," a comparatively tame coaster in an "abandoned mine" is still my favorite!
Of course, Christmas shopping and my seafood feast was on the agenda last year too.
This year, our new tradition was in question. It has been a challenging year here and we just didn't think we would be making the trip, but thanks to selling some stuff we no longer need, we managed to get in an afternoon in Branson on Saturday, and I even got my annual fish fix!
By the time we had finished walking the entire length of Branson Landing, taking in the lights and getting hit with the brisk pre-winter wind that was blowing on Saturday night, we were ready to head home to our own Christmas lights at Campbell Town. With our new traditional visit to Branson, I'm now all set for Christmas!
How have your holiday traditions changed over the years? Is there a special place that makes the holiday season for you?
Keri – You won the drawing this morning for a bag of Wellness pet food and a bag of treats! Please email me at fivecoat@ozarkmountains.com with your address and preference of dog or cat food! Thanks to all who shared their pet stories and entered the contest!