Must Love Dogs…or Cats and holiday giveaway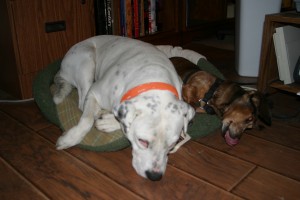 When Dale and I first met, I was a dog person, simply because we were so young that I was still living with my parents and my mom didn't allow me to have cats. Dale was a cat person simply because when he lost his beloved childhood dog, it broke his heart and he didn't want to ever "replace" him.
When I got my own apartment, I had both cats and dogs, so when we married, we had a blended household up until the time we moved to The Little House.
Both of our elderly cats, unfortunately, died within weeks of the move and because we had acquired Sade, our pit bull, who didn't seem fond of cats, we opted not to get another. Besides, placing a litter box in such a small space was a problem.
People have asked me, "Your house is HOW small and you have HOW MANY dogs?"
I don't know what I would do without my beloved Fearsome Four who entertain me, cuddles during naps, warms us at night and keeps me company here in the Big Woods. For me, The Little House wouldn't be complete without them.
I've only been without a dog for 3 months in my entire life and I was so miserable that when we got another, Dale said he was happy to finally see me smiling again.
Contemplating my history with pets as Sade, the 58-pound pit bull tried to convince me that she is, in fact, a lap dog, made me wonder what really makes a dog person vs. a cat person.
Of course, I sought out the trusty Internet to answer this question and found two quizzes. The first one had limited choices and declared I was definitely a dog person. But I didn't feel it was very accurate as it asked questions like, "Do you prefer to cuddle or be active with your animal." It didn't give the option to check "both."
The second one I found more interesting – almost like those horoscopes that describe your day perfectly, this one described me as a "mutt," both a dog and cat lover:
"Since you are neither dog nor cat but somewhere in between, you sail through life on an even keel. You learn from your experiences but also have fun along the way. Your friends are a mixture of acquaintances and trusted pals who are equally happy at a block party or on a quiet evening walk. You frequently speak your mind but allow others to share their views, keeping disagreements at bay. You work hard but know when it is time to play and consider a wild game of basketball as much fun as a thoughtful game of scrabble. You frequently enjoy the best of both worlds, which is why you would be equally pleased with either pet in your home. A few famous examples of your type are Kim Basinger, George Clooney and Sarah Jessica Parker."
Replace the game of basketball with a canoe ride or a zip-lining adventure and I couldn't have described myself better. And, I'll happily be placed anywhere with George Clooney!
Are you a cat or dog person? Tell us about your favorite pet you've had in your life.  Answer in the comments section and it will register you for a drawing for a bag of your choice of cat or dog food and a bag of treats from Wellness. I switched my dogs to this brand several months ago and it has been great for them. My senior dog Emma's eyes are brighter and she has more spring in her step. The picky ones are picky no longer and Molly even loves to crawl inside the empty bag and lick it clean. Full disclosure: I am not a paid spokesperson for Wellness, or being offered an incentive or discount on my purchases to promote their food. They simply offered the giveaway and any free product will be shipped directly to the winner.
Comment before the new post on Monday morning and I will draw a U.S. based winner. If I draw your name, you will need to email me your contact info by the time I do the new post on Wednesday or you forfeit your prize! Good luck and Happy Weekend!