Movies Take us Away – and a Giveaway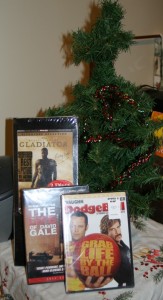 Dale and I have always loved watching a good movie. When I had my slumber party here at The Little House this fall and got out my scrapbooks to show my friends, I mused that I had pasted the ticket stubs from most of the movies we went to see during that first year of dating.
Some of them were memorable, such as "Animal House," which I noted we saw on October 7, 1979, "The Electric Horseman (January 12, 1980), the original "Friday the 13th" (June 7, 1980),  "Motel Hell (October 25, 1980), and "Coal Miner's Daughter." I remember that one vividly because we went with my parents and it is one of the last times I remember doing anything with my dad before he passed away.
Most of them weren't memorable at all, but I'm sure we had just a good of time with the chocolate covered raisins and popcorn, which Dale always ate with Red Hot Tamales.
These days, we have a membership to Netflix, which has allowed us to receive rented movies in our rural mailbox, watch them at our leisure and return them though the mail. It also allows us to watch television series. We watched and fell in love with "The Sopranos," "Six Feet Under," "Deadwood," and "The Wire," without having to pay for premium movie channels. Perfect for our rural lifestyle!
Before we moved, our love for movies prompted us to develop quite the video and DVD collection (still not sure what to do with all of those outdated VHS videos).
There were some movies I loved so much that we bought two copies – one for the house in the city and one for The Little House.
Sometimes, we didn't even open the second copy. While going through the DVD's looking for "Christmas Vacation" for our traditional Thanksgiving weekend viewing, Dale found we had brand new, unopened copies of a two-disc set with bonus features of "Gladiator," starring Russell Crowe, "The Life of David Gale," with Kevin Spacey (love Kevin Spacey) and Kate Winslet, and "Dodge Ball," starring Ben Stiller and Vince Vaughn (have no idea why we have this one).
You can help me continue to get rid of the stuff in our lives we don't need and you have the chance to win these brand new, still shrink wrapped movies!
It's easy to qualify for the drawing. Just tell us about your favorite all time movie in the comments section on this post between now and the time I post on Monday morning. Just by commenting, your name will be put into a hat and you might win all three of the movies for your winter viewing entertainment, or to give as gifts this holiday season!
Sorry to my international readers, but you must live within the U.S. to qualify.
Good Luck and Happy Weekend!