Comfort Weekend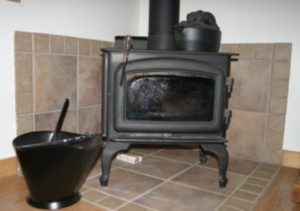 First things first, the winner of the movies is Freth! Congratulations, Freth. Please contact me at fivecoat@ozarkmountains.com with your mailing address. Thanks to everyone who entered by commenting.
Stay tuned for another great "green" giveaway this week!
Old Man Winter made his first real appearance at The Little House this weekend. As temps dipped down into the teens, we decided to hunker down with some movies, crockpot recipes and the woodburning stove. I even took my laptop over to The Little House so I wouldn't have to go over to The Belle Writer's Studio on the cold mornings to read my online news.
When we built The Little House, we decided not to install a central heating and cooling system. Since the house was our lake home used primarily in the summer, we felt we didn't need a heating system.
For the winter holidays we spent at The Little House, as well as the first winter-and-a-half we were here full time, we used two space heaters, which was adequate to heat our space. Last year, during the ice storm, when we were without power for 8 days, we realized how much electricity those heaters were using (as well as money going out for the electric bill) and we decided to use the woodburning stove for all of our heat.
It was great for the remainder of last winter, as Dale was laid off and he tended the fire and kept it going while I came over to The Belle Writer's Studio to work.
So far this fall, it's been a challenge for me to remember to go over to The Little House every 2-3 hours to stoke the fire and put on a new log. I get into my work and forget about keeping those home fires burning!
However, this weekend, we stayed nice and toasty using the stove. There was lots of television watching, naps with only the glow of the fire and Christmas tree lights, and some good food. I did find a good crockpot recipe for chicken and dumplings, I modified it by adding some fresh carrots and celery for more flavor.
We did have to get out once, yesterday afternoon. Dale had to cut some more wood and I gathered some kindling and helped him get the wood to the covered porch, just before the cold rain hit.
Comfort fire, comfort food. A perfect weekend.
What is your perfect weekend when it is cold out?
Note: Some of you have asked about the woodburning stove, which is a Regency Small, Model F11-00S. Ours was built in 2003. It is perfect for a small space and heats our entire 480 square feet adequately (sometimes too hot).