A Closet Full is All We Really Need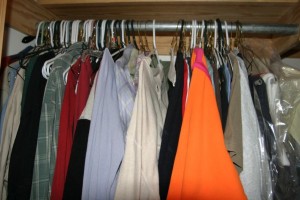 I did learn from life that you can never have enough closet space, so in The Little House we did have the presence of mind to build deep closets with enough hanging space to accommodate clothes for two people.
The problem, as I saw it when we moved, was that because the house was a weekend home, the closets couldn't accommodate more clothes than enough for a week or so.
When I was younger, I loved clothes. I begged my parents to allow me to start working at 14 so I could buy my own designer jeans and not settle for the department store brands my parents could afford.
After I paid the bill for having my own phone line in my room, I spent much of my $2.25 an hour wages from the local Tasty Queen on clothes.
When Dale and I started dating, I was still in high school but he had graduated and was working, so he had the extra money to buy clothes for me too. Sometimes, he would go shopping and get my mother's permission to lay the new outfits out on my bed before I came home from school. There was nothing more fun than finding a nice, new outfit I could wear to school the next day!
As a result, I accumulated a lot of clothes – enough to fill two closets at my parent's Victorian Tudor.
As I got older, the jeans turned into business suits and when I worked in the corporate sector, I had closets filled with expensive dress suits.
The first thing I did when I began my full time freelance writing career is sack those suits up and donate them to a women's shelter.
Most of the clothes I have now are casual. We have one set of dress clothes, a suit for Dale and I have one dress for occasions when I just can't get out of wearing one, and I have several pairs of casual slacks and dressy shirts for meetings with editors and writer's conferences.
Mostly, though, I just have sweats, t-shirts and sweatshirts or fleece shirts for wearing to work at The Belle Writer's Studio.
I learned this week I do need a few more warm shirts, which I'm sure I can find in the boxes still packed away.
But generally, having so little space is not a problem any longer. We have enough room for what we need.
Like those suits I no longer needed, the clothes still stored in boxes would be better served going to someone who does.
If you would like to shrink your wardrobe to a simpler one, my friend Tammy, over at Rowdy Kittens, posted 6 Steps to a Simple Wardrobe. Check it out!
Now, I can never have too many t-shirts in the summer. This week's giveaway is a gift card for a very cool t-shirt made of 100% certified organic cotton from bgreen.
bgreen apparel is a division of NatureUSA, a leading manufacture of certified-organic cotton apparel. They've just recently launched their new website featuring their Spring/Summer collection and I hope you will check them out.
All you have to do to enter to win is make a comment on this post before my new post on Monday. Tell us how your views on clothes have changed throughout your life, or just tell bgreen how cool they are to offer this giveaway through Living Large! I'll put your name into a drawing and you could win this gift card for yourself, or to give away as a gift this holiday season!
Confidential to "Me:" You sure brightened my day the other day when I found that beautiful fleece and all of the other fun stuff in my Big Box! You're very clever using a different post office so the postmark was different! Thank you! 🙂