We're not the Begley's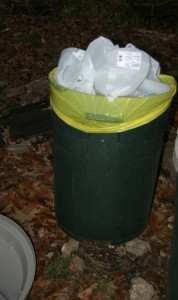 Ok, so if Monday's post left you with the impression I'm the Queen of Green, I'm sorry for misleading you.
It's true, I was ahead of the curve on the cloth bag initiative and that's something for which I'm proud. It was simple, didn't cost me anything but the initial cost of the bags, and it did save me some nickels on our grocery bills for the years we lived in KC, as stores there gave a nickel for every bag you used.
But we are far from being the Begley's around here.
Like anyone we know, we live on a budget and "going green" has to fit into what we can afford.
While going green can save money in most instances, there are times when being environmentally friendly costs more upfront – and sometimes the upfront money just isn't there.
For example, we drive a gas guzzling 4-wheel drive truck as we do live in an area where we actually need the 4-wheel drive. I would have liked to have purchased a 4-wheel drive hybrid, but they were out of our price range. We've probably paid more for gas in the long run, but $900 a month car payments just didn't fit into the budget.
When I built my office last year, we did use materials to make it more energy efficient, but the most environmentally friendly products weren't in the budget.
When we had to replace our hot water heater earlier this year, we had just used our emergency funds for a generator during the horrible ice storm, so we purchased the hot water tank that fit into our downsized budget, and it wasn't even Energy Star rated. We probably could have saved some money in electric bills buying the more expensive model, but we're also trying to live within our financial means.
Possibly the worst environmental infraction, or at least the one that drives me the craziest, is the bottled water.
I never was a bottled water person in the city, the tap was good enough for me. But here, our tap water comes directly from a well and we haven't been able to make ourselves drink it, not knowing what how badly it might be contaminated.
We do have a small filtration system that filters the sediment, but the filtration systems we've found that would make the water safe of contaminates are expensive.
So, each week I spend .89 cents a bottle for the gallon jugs and $5 for a case of smaller bottles so my husband also has water at work.
Believe me, each of the 9-10 times I stuff a large bottle into the trash can every week, I feel a pang of guilt.
Sure, we take them in the recycle loads, but I would rather not have the need to create the waste in the first place.
My environmental goal in the New Year will be to find a way to eliminate the bottles from our lives.
Although I feel the guilt for the things we are not doing, going green really is not about being the Queen of Green all at once, but being aware, setting goals and doing the small things as you can.
What is one of your environmental goals for the New Year?
To all of my readers in the U.S., Happy Thanksgiving, enjoy being with your family and loved ones!
On Friday, I'll be offering a giveaway that I think my readers will enjoy. Hint: It is in line with this week's posts and it involves a cool book!