The Wanderer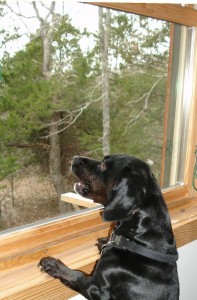 It was a beautiful weekend in the Ozark Mountains again, and we took advantage of the warm Indian Summer weather to be outside a little.
Dakota is our little black Dacshund and Beagle Mix.
She is also our little wanderer, if we don't keep close tabs on her, she will be gone in a flash.
When we traveled from Kansas City to the Little House, she got away from us a couple of times while on the road. Once in Sedalia, Mo., where she bolted from the truck and took out across a parking lot into a residential neighborhood. Here I was, huffing and puffing all the way. Dale was sure surprised when he looked up from the menu he was reading inside the restaurant and I was walking by, sweat pouring down my face and Dakota in my arms.
The next break she made for it was in Clinton, Mo., we had again stopped to grab a bite and when I went out to check to make sure the air was still running for the dogs – you guessed it, she bolted. This time across a farm field with the highway on the other end. Dale caught up to her just before she reached the busy interstate.
From then on, we buckled her into the truck.
She's gotten away from us a few times at the Little House. The big dogs get to roam and her big attitude allows her to believe that she can run with the big dogs.
On Saturday, I went to sit out on the party deck for some air and sunshine and I watched Dakota go into the garage. When she snuck out is anyone's guess, but she was gone about 30 minutes.
She could run with the big dogs if she were bigger, but the buzzards around here that she loves to bark at (she's barking at them through the window in the photo) are bigger than her and could carry her off. Then there is the cougar we've heard screeching, the coyotes, and the bears that also pose a danger.
She did come back, thank goodness, and while I told her she was a bad girl and admonished her, I can empathize with the curiosity that makes her want to roam. There are many places left that I want to see in this life. My dream list includes a New England island-hopping cruise in the beauty of  fall, Ireland, Australia, Hawaii, and Dubai, so I can understand her wanderlust.
If you could roam anywhere, where would it be?
Note to "Me:" What a wonderful surprise to find a little gift of lovely notes in the big box on Saturday. I was having "a day" and that gift and note brightened it very much. You're the one who is a very special person. Thank you.