Something Old, Something New in Holidays
Thank you so much for reading and entering the drawing for Jodi Helmer's book, "The Green Year: 365 Small Things you can do to Make a Big Difference." The winner of the random drawing is Becky! Congratulations, Becky! Please contact me via email at fivecoat@ozarkmountains.com with your address. I would also like to thank Jodi Helmer, who made this giveaway possible. I recommend you get the book (there's great deals online today!) it is truly one of the best books out there.
This was so much fun, I'll be doing giveaways throughout the holiday season, so make sure you check back regularly!
Now, for today's post: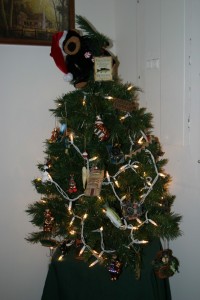 I didn't spend Friday trying to grab the latest deals on more stuff, nor will I spend Cyber Monday trying to find the greatest deals online. We used to do the mad shopping dash, but do very little holiday shopping now.
Still, this weekend was spent with some old traditions and with many new ones here at The Little House. When Dale and I had tons of family to spend to spend the holidays with and we usually had to eat more than one turkey dinner to make everyone happy, we decided that when our family was gone we would eat tacos on Thanksgiving. Since his family remains in KC, we've been doing just that for the past three years here at The Little House.
We did bring a couple of old traditions with us, we watched "Christmas Vacation" this past weekend, an annual event we've been doing since the movie was released some 20 years ago. I also got my pumpkin pie. My mother was the best pie baker and I've been eating pumpkin pie for breakfast the day after Thanksgiving for as long as I can remember. My aunt is now the best pie baker in the world, and she always brings me a pie down so I can continue that tradition.
We also put up the Christmas décor this weekend. When I was growing up, my mom waited until the weekend before my birthday in mid-December. I think this probably went back to her own childhood, as they still used candles on their trees then and couldn't put them up too early or the tree would dry out and cause a fire.
Dale's family always decorated the weekend of Thanksgiving, a tradition I also adopted as I couldn't see going to all of that work to only enjoy it for a couple of weeks.
However, stringing lights is new for us at The Little House. I pleaded and our two daughters begged, but we could never convince him to hang outside lights at The Beige Split-level in KC. Hanging lights there would have required a very tall ladder and I think he pictured himself as Clark W. Griswold, stapling his sleeve to the gutter and tumbling from the roof.
Here, we hang the lights from the deck, basking the woods in beautiful white light for the season. The outdoor décor makes up for the lack of space I have to decorate inside.
Now we are ready for the holiday season, which we spend enjoying our home, each other's love, and sharing with new friends on Christmas.
For us, at The Little House, those are the things that truly bring joy to the season.
What are the traditions you enjoy that doesn't involve shopping and being stressed during the holiday season?