Small House of the Past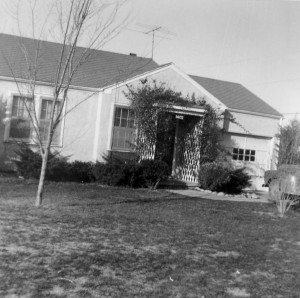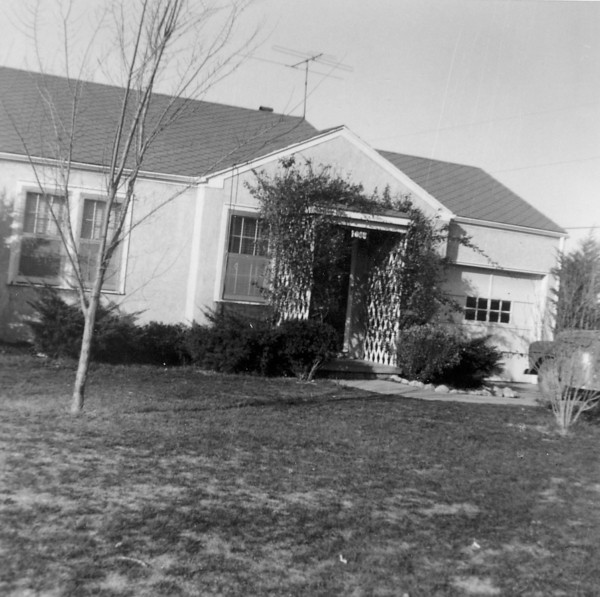 In 1946, when my parents purchased this brand new bungalow on the GI Bill, small houses weren't that uncommon. To own any home was the American Dream.
When this photo was taken, the house had two bedrooms, one bath, a small dining area and living room. I would estimate that it wasn't probably much more than 700-800 square feet.
As our family grew, my parents expanded the living room and added another bedroom by eliminating the garage and they also added a family room to the back of the house, still making it no more than a 1,000-1,100 square feet.
By the time I was born, there were 7 people living in the house,  including my  three teenage siblings and my elderly grandmother.
It was cramped quarters, but I also believe that part of the reason families were closer back then was that lack of space and inability to get far from each other. Most children had to share a room and families gathered together in one living or family room.
Sure, homes were larger in the 19th century, particularly Victorian homes, but they averaged 2,200 square feet because the size of the families was much larger. It wasn't uncommon for families to have 6-8 children. Of course, this also depended on a family's wealth. My paternal grandparents raised 13 children in a 2-room cabin.
According to statistics provided by the National Association of Home Builders, the average sized home has went from 600-800 square feet in the early part of the 20th century, to 2,300 square feet in 2003 – although the average sized family has decreased by 25 percent.
I know one family who lives in at least 4,000 square feet – their master suite is probably 3 times the size of our entire house. Their children each have their own rooms and bathrooms, and the main living area is farther from their rooms than my office is from our house. I don't see how you can have a close family when each member has their own wing, and more importantly, I don't see how one can keep tabs on their kids from that distance.
My mother was a master of using space, she had built-ins put in all over the bungalow, from cabinets and built in desks in the bedrooms to bookshelves in the living room. The kitchen table was built in and the kitchen also had an island with plenty of storage. In my tiny bedroom, my bed was even built in with storage drawers underneath.
Her dream was to restore a Victorian home and when I was 15 she had found the perfect house and we moved from the little bungalow, but I'll never forget the closeness we shared there as a family.
What do you think? Does the size of today's houses lend to family's not being as close?