Black Friday Give Away a Signed Book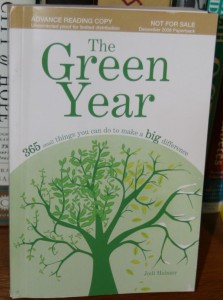 I hope all of my American readers didn't eat too much yesterday and that you had a very Happy Thanksgiving with your loved ones.
I promised a cool giveaway this week and waited until Black Friday so you would be in the mood for a real bargain. For me, nothing would put me in a better mood than winning a new, signed copy of a book!
Among the sea of books out there telling you how to go green, there is Jodi Helmer's "The Green Year," one of the best books I've ever read on the subject. I like it because it takes "going green" in baby steps, giving the readers an idea of small things we can do, while also providing the overall picture of how it would help if more people followed the suggestions.
Last week, while going through my books, deciding which ones to donate to the library or trade back at the used bookstore, I picked up my copy of " The Green Year."
It's well read, but gently used, as I treat my books like the prizes they are. "Hmm," I thought, "Should I offer this as a giveaway on the blog?" It took me only a second of thumbing through it again to know it was a keeper, I couldn't bear to part with it. I contacted Jodi, who offered to give away a signed copy of "The Green Year" to one of my lucky readers. This would be perfect as a holiday gift, but I think you might want to keep it.
It's great for both the person who has been green minded for awhile and also those wanting to learn about more small ways they can help the environment. I learned a lot from it, for example:
Did you know that by removing your screensaver from your computer that you would save 90 watts of power? Putting it in sleep mode only used 10 watts, compare to 90 watts of power it uses when using a screensaver.
Your plastic shower curtain is probably made of PVC, which can emit harmful gases that cause cancer and diabetes. You might be breathing in toxins everytime you take a shower. Nylon shower curtains are much more environmentally friendly and are washable.
The electric can opener in your kitchen uses more power than you think. Jodi suggests switching to a manual can opener. Electric ones also take more resources to make and more space in the landfills. Did you know if everyone in the U.S. switched to a manual can opener, it would save 648 million kWh of power?
So, here's how you can register to win. It's easy. Just make a comment on this post related to any of the posts from this week. It could be a suggestion you've found to help you go green or why you would like to win this book. You do have to make the comment on this post between now and before my new post on Monday. I'll put the names of commenters in a hat, draw one lucky winner for the book and announce it with Monday's post. Good luck and have a great weekend!