Baggin It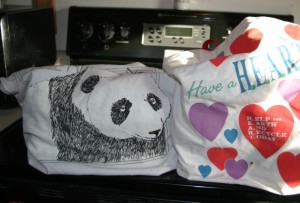 Before I get started on Monday's post, I want to let my readers know that there will be another fun giveaway this week. Watch for it and learn how you can win something really cool!
Now, back to regularly scheduled programming:
Going to the grocery store is a chore I've always disliked. Making the list, getting all of the stuff on the list, paying for it (that really bites these days), and then getting it home and lugging it all in, sorting and putting away.
My mom and I did this errand together for most of my adult life, which made it a bit more fun.
Now though, all I have left of those outings are her cloth grocery bags. I've been using cloth bags for grocery shopping for 21 years, since one of the pushes to "go green" in the 1980s. My husband was working at a large landfill and was coming home telling me horrible stories about birds getting the plastic bags forever tangled around their feet or in their bills. Then there were the stories the landfill would fill up much faster than the middle of the 21st century, as they first thought.
One week while my mom and I were at the store, we saw cloth bags (the ones pictured) and decided to buy some. It is the easiest thing any of us can do to have less of an impact on the earth, with probably some of the most benefit.
My husband pooh-poohed the idea. "Do you really think the few bags we use each week will make a difference?" he asked. He was used to seeing the really BIG picture, the tons of trash coming into the landfill each day and couldn't imagine anything we would do could make a difference.
My mom and I believed in starting small, so we got ourselves into the habit of using our cloth bags. It got so that if we forgot them, we felt well, naked.
Sure, the clerks looked at us most of the time like we were from Mars and more often times than not, didn't know how to sack them, trying always to pack them too heavy to carry, but we persevered. I even expanded and started using the bags for other shopping outings.
When I had been using the bags (approximately 9 per week) for 20 years, I added it up and estimated with all the shopping trips, we had saved approximately 10,000 plastic bags from the landfill.
I think that's a pretty big impact for three people.
There's still even more benefits by using cloth bags at The Little House in addition to helping save the planet from more plastics. Given the space constraints, there are fewer bags to maneuver around the small kitchen than if they were plastic and once they're unloaded, they go back out to the truck, instead of the recycle bin, cutting down on the clutter.
The other benefit is that I now have my mom's cloth bags, still going after all of these years, and the memories of our outings together still makes the grocery store less of a chore.
What small thing have you done to help the environment?