Any Day is a Good Day When Books are Involved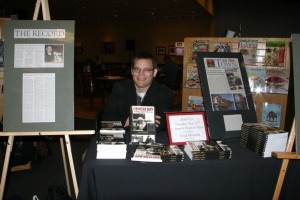 When I return to my home city, the first place I usually hit, even before seeing family and friends, is a bookstore. I think probably the two things I miss most about being in a city, is being a part of a writing community and the wonder of bookstores. Kansas City has a very large writing community that seems to bond well.
There was always something going on there, from activities with the Kansas City Press Club and the Kansas City Writer's Group to book launches, signings and readings at The Writer's Place. There was also always some writer to get together with over lunch or dinner for a little one-on-one camaraderie and to bounce ideas off.
As for bookstores, I love them all, the big ones with coffee shops (and free wi-fi) and the small independents.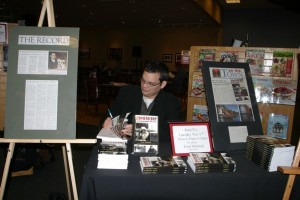 We do have a small one near us and surprisingly three (that I've found so far) used bookstores here, but there's just something magical about a big bookstore with all of the latest releases.
Yesterday, I had to travel to the big city, which for us, is Springfield, Mo., two hours to our north, to meet up with some editors for work. Besides having the chance to eat Italian food (something I also miss) and have a Starbucks, I got an extra special treat last night.
I noticed on Facebook and Freelance Success, an online community of writers, that one of my colleagues would be passing through Springfield on his book tour. Fred Minnick is the author of "Camera Boy: An Army Journalist's War in Iraq."
I decided to schedule my editor meetings on the same day as his Fred's signing and luckily, the stars all aligned. I have a special place in my heart for veterans who put themselves in harm's way for the rest of us, and given I had written "No Immediate Threat: The story of an American Veteran," a book on my brother's experiences before, during, and after Vietnam, I thought it would be fun to get to meet Fred and show up at his book signing. I got triple the benefit: Meeting and talking with another writer, attending a literary event, and I also got my bookstore time with a brand new signed book!
Did I mention landing a new writing gig with those editors? What trip could be better?
If you work from home or live in a rural area, how do you reconnect with the outside world?