The Season Begins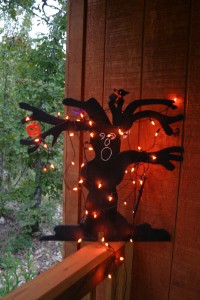 First, a drumroll…..
The winners for the magazine drawing are: Kathy, who won a subscription to Mother Earth News and Kim, who won a subscription to Country Living! Please contact me with your contact info. Thanks to everyone who participated by visiting me at The Little House Blog and commenting on the posts.
Now, back to regularly scheduled programming…
Holidays wouldn't be holidays without the food that goes along with them, and at our house, Halloween isn't left out.
When I was a kid, my mom always made the first pot of chili on Halloween to warm our tummies before heading out trick or treating.
My nephews would come over, we all would have a bowl of chili (although I'm sure we were more excited about the trick or treating than the chili) and my dad would take us all on the obligatory march of begging candy from our neighbors. We only went to the houses where we knew the people, which was most all of them in a 4 block radius, and come home with more candy than one kid should have in a full year.
When we bought our house in the city, I continued the first pot of chili tradition. My mother and mother-in-law would come over and help hand out candy.
Most of the time the weather dictated the chili, sometimes not, I remember one warm Halloween my mom and I sat on the porch in lawn chairs handing out candy.
Most years, my husband is begging for chili long before Halloween, but I always hold out.
It's tradition, after all, and the first pot of chili not only marks Halloween, but the beginning of the whole "hot pot" season where I fix soups, stews, and chicken and dumplings. The season usually ends somewhere around Easter.
We don't have trick or treaters at The Little House – it would be a pretty scary thing if we did – but I still make the traditional first pot of chili on Halloween. Afterward, we will pop in the Halloween horror movies we've made a part of the tradition to make up for the lack of little goblins yelling "trick or treat" and have a ghoulish good time.
Do you have a special tradition for Halloween that's been carried through your childhood or that's new?
Also, please let me know what you think of the new look on Living Large in Our Little House!
My Mom's Chili (an easy, but good recipe)
3 cans of pre-mixed chili beans, hot or mild whatever your taste
1 lb. ground round
1 onion
1 large can of tomato juice
Chili powder
Red pepper
1 sm. can chopped hot green chilies (optional)
Chop your onion and add it to the ground round while browning. Put the browned meat and onion into a cooking pot and add the beans. Pour in the tomato juice to match your taste for thickness (I use about ¾ can). Add about 2 tbs. chili powder, a few dashes of red pepper and the can of crushed green chilies. Bring to a boil, reduced to a slow simmer and cook for approximately 4 hours, stirring occasionally. Taste throughout and add more spice if desired. We serve with sweet corn bread.
Happy Halloween!