The Plant
This plant doesn't exactly fit into a small space. It's way too big for The Little House and by the time winter is done, I'm ready to be rid of it from The Belle Writer's Studio.
In the summer, it thrives on the party deck on the house (apparently loving hot, humid weather with direct sun), which is at least 50 yards from the Belle Writer's Studio.
This year, Dale backed the truck up to the deck and rolled the plant out as far as he could and got it onto the tailgate. He then only had to lift the 200+ pound plant onto the covered front porch of the writer's studio and we rolled it via a plant roller the rest of the way.
Sometimes I think I should have found another home for it, maybe a nice big atrium in one of those huge hotels or office buildings in the city, but how would I know it would have been taken care of?
My mother-in-law gave me this plant over 23 years ago as a wedding shower gift when it was just a wee tike in a small container. When she "showered" me with this gift, I had the distinct reputation of not being able to keep any plant alive.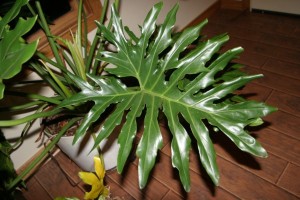 This one was the first plant that not only lived, but thrived under my thumb, growing to monster proportions, and that's the reason my husband feels that whatever kind of a plant it is, it's a curse on him.
"This plant is always a pain in my a**," he said, huffing, as he lifted it onto the porch.
"Well, it is twice a year anyway," I replied. "At least it doesn't have to live in the house during the winter anymore."
The first winter we were here before we built the writer's studio, it took up over half of the tiny living room in the house and blocked the front door from use all winter.
Our daughter, who visited from Germany the year before our move, and who hadn't seen the plant in 10 years by that point, was disappointed when she walked into our bigger house in the city and saw the sad leaves.
"What happened to the plant!?" she asked. "You're letting it die." She ran and retrieved photos taken in the living room when she was a teenager. "Wow, it looks great in the pictures," I told her. "See, that's what I remember it looking like," she said, rolls reversed and a look of disapproval staring back at me.
In Kansas City, it didn't go outside in the summer, but spent the whole year in front of the living room windows. It did look pretty horrible at that point, with only three sickly looking sprigs.
Our daughter made me feel bad for the plant. I had been neglecting it and decided it needed more TLC and brought it back to somewhat of a reasonable condition by the time we moved.
"You can't put the plant in the back of the pick up and let it ride down the highway like that, it won't have any leaves at all left," I told my husband. "It will have to go in the covered truck."
He gave me the look. "Would that really be so bad?" I gave him the look back and he set about making room in the covered truck (which was way too small for our move anyway).
Nothing prepared us for what the plant did once we stuck it on the party deck that first summer here. Its' leaves began shooting everywhere and the roots started growing out of the pot. It was clearly happy in its' new environment.
As I sit contemplating what the plant has went through, I realize it's a metaphor for our lives. It grew when we were young newly weds and as we moved to bigger and better digs, it got new pots too. We all thrived when our daughters live with us. And like our family, it became sickly and sad when my mother became ill.
It's been through thick and thin, and has made several moves with us. Now that we're where we're supposed to be, it is the healthiest it's ever been.
I need your help today. I've never known what kind of a plant I have here. When people ask me what it is, I would like to say more than, "Uh, I don't know, an elephant ear?" No one else, including my Mom, has ever been able to name it either.
Can you?  Also, do you anything that's a metaphor for your life? Or, a plant you can't part with?
Remember, posting a comment on current posts continues to get you entered into the drawing next week!