Slumber Party at Campbell Town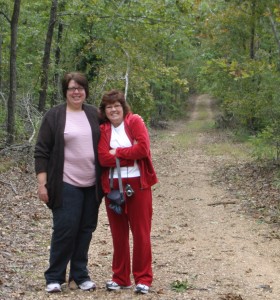 "Are you nervous about next weekend?" My friend, Rae, from the present asked me about my impending slumber party with two friends from my past.
I shrugged. "No," I wondered, should I be?
"I have known Shelly (left in the photo) since Kindergarten and Lora since junior high, why would I be nervous?"
"Well, 27 years is a long time," she said. "You don't really know them anymore."
I thought about her question all week.
Was I living in a time warp, hoping that when I met these two people again in my driveway that things would be as if we had parted for a shorter period of time than nearly 3 decades?
Yes, 27 years was a long time and in some respects, it does feel like the lifetime ago that it was. Still, I couldn't make myself feel nervous.
Both of my old friends had been on my mind since Dale and I started preparing for the move to The Little House. The loss I had experienced that year and leaving the community in which we had grown up put me into reflection mode.
Then, when we were packing, my husband and I had come across some love letters I had written him while vacationing with my parents one summer on Lake of the Ozarks. Lora had come with us. Besides writing of my undying love and how much I missed him, I was filling Dale in with the events of the days spent on the lake with Lora.
One night Lora and I decided to do some night swimming on the lake. As we floated on inner tubes, lying on our backs looking up at the stars, our whole lives ahead of us, we talked about our dreams, and the boys we loved.
As Dale and I continued to pack for the move, I found a scrapbook I made in high school. In it, a photo of Shelly and Lora, along with another friend, hamming it up at a slumber party I had at my parents brick Tudor. The photo was dated 1979.
As it always happens, our lives, responsibilities and priorities changed. We lost touch.
I had, of course, wondered what had happened to my friends since high school, but this time, I felt the overwhelming need to reconnect. When Dale and I settled into The Little House, I started looking for them on the Internet, and I found Shelly's married name through classmates.com. I found a Shelly with the same last name in Washington State, and because it's a relatively uncommon name, I figured it had to be her.
It wasn't and I was again at a dead end.
For another year and half, I kept looking and when I finally got on Facebook, and thought for sure I was the last person on the planet to join, I just knew it would lead me to my long lost friends. At first, I had no luck, but finally found Lora's brother on the social networking site and emailed him, asking to him to pass along my contact info.
Lora soon emailed back. We learned she lived not 10 minutes from our beige split-level in Turner. Later, I found out that I had probably talked to Shelly on the phone during the course of running my writing business as she worked with one of my sources in a city just 2 hours from The Little House. One email led to another and a few more.
So, what do 3-middle aged women do to reconnect?
We did what any mature women would do: Planned a slumber party at The Little House.
By all accounts, we all looked forward to it this past weekend, and we all dug up plenty of memorabilia from the life that connected us at school to the lives we had lived separate since.
When we met, there were hugs and a gift exchange. Lora made us cute little photo frames with the words, "Slumber Party Campbell Town" on them. Dale and I took them out on the lake on Saturday afternoon, we shared a meal together and then some drinks by the bonfire Dale built for us in the fire pit. We reminisced about previous slumber parties so long ago. There was that time with the grain alcohol taken from a parent's bar. We brought up names of others who attended school with us. More often than not, the name rang a bell in the back of our minds, but we couldn't put a face with the name.
Afterward, we retreated to The Belle Writer's Studio and looked through those junior high and high school yearbooks, and aging photos, remembering and laughing – literally – until I almost peed my pants.
I couldn't wait to show them the photo of them at my parents' house taken almost exactly 30 years before.
As Shelly put it, "We caught up on 27 years in 10 minutes."
It took us more than 10 minutes of course, but in perspective, it was like a few minutes time to share a lifetime of love, the pride of our families, triumphs, losses, heartbreaks and life.
Dale snapped a photo of us in our PJ's to fill our new frames.
When Dale and I waved goodbye yesterday, we retreated into The Little House. "Well, back to our normal lives," Dale said. I had been planning and talking about the slumber party for so long, it had become the event of the year here.
Although the party was over, it wasn't back to who I was before. I was right not to be nervous. Our roots that tied us together as friends in the beginning bound us through our reunion. We found we still had some of the same things in common, and learned we had grown with similar likes and dislikes in life.
To me, it was as if I had just seen my friends last spring and are returning again to pick up where we left off with our friendships for a new fall semester.
We decided to make the Slumber Party at Campbell Town an annual event, so in a way, we are beginning a new semester of our friendship, continuing what began so long ago.
Today's Question: Have you ever reconnected with old friends from school? Were you nervous? How did it turn out?