Home is Where the Heart is
Life in The Little House is grand, but that doesn't mean that sometimes I still don't feel the overwhelming pangs of homesickness.
By "home," I mean our native Kansas City. Dale and I grew up on the Kansas side, but when you are from anywhere in the Kansas City region, you consider both sides of the state line home.
I miss my friends, teaching at Johnson County Community College, readings at The Writer's Place and being involved in the Kansas City Press Club.
When I finish a big project, I miss driving 10 minutes to Sakura's, my favorite sushi bar and celebrating with my sushi buddy, a Sapporo beer and "Sex in the City," (no, it's a yummy cooked shrimp roll!) Part of the fun of this place is that a little train brings you sushi as you wait at the bar.
I miss my Starbucks, having access to locally raised organic, free-range meat and dairy products at Hen House, and being within 10 minutes of a mall (and having the money to spend at these places!)
Last week, when I visited the woman who cuts our hair here, she had just finished Dale's and he left to go back to work. "I think he misses Kansas City a lot," she said of their conversation while she was cutting on his shaggy hair.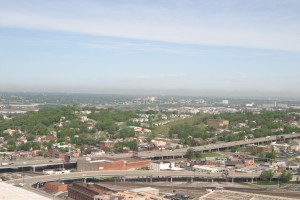 I know together we both miss our neighbors who lived across from our beige split level in Turner, Cascone's (especially their homemade Italian sausage), Red Fortune Chinese in Bonner Springs and the number of places we could get good, authentic Mexican food.
Of course, we also miss Dale's family, especially when there's a health crisis and we can't be there.
Since leaving Kansas City, we've had the opportunity to see it as we never have before – as tourists. Dale has only gotten to go back twice in the two years since we left, but I've been back several more times on business and for conferences.
I've visited the National World War I Museum and Liberty Memorial, home of the country's official World War I museum and largest collection of artifacts from "The War to End all Wars," outside of Great Britain. The photos on the site today were taken from atop the Liberty Memorial (the first the view of the Missouri side, the second the view of the Kansas side). The photo on the front page shows the view of Union Station, the city's grand train depot from an era when trains ruled transportation in this country. I walked the grand halls and wondered how many times my parents walked those halls after a long trip. It surely was where my dad met my mother when he came home from World War II. Today, the station is the site of Science City, special exhibits and the KC Rail Experience, an exhibit dedicated to the history of trains in Kansas City.
I've rediscovered the thousands of artifacts recovered from the Steamboat Arabia, a supply steamboat that sank in the Missouri River in 1856 and was recovered in the 1980s. The food is preserved in jars so well, it looks like it could still be eaten and the dinnerware is ready to serve. It's like looking at the artifacts of the Titanic – although these items are 56 years older than items found from that famous wreck and found on permanent exhibit right in the heart of Kansas City!
I miss concerts – I saw Fleetwood Mac – at the new Sprint Center in the hip Power and Light District on one trip back this spring.
I've even taken a segway tour of The Country Club Plaza and shopped some of the stores there. I was hoping for a fall trip this year so we could see the famous holiday lights once again, but although the city is offering specials to visit this fall, that's looking unlikely for us at this point.
These are just some of the things we never did when we actually lived in Kansas City, I guess we took our hometown and all it had to offer for granted. I think that's natural, I know we were certainly on that same course here until this summer when we woke up and realized some of the great things our new home has to offer.
Having these points of pride in the place where you live is a part of the external amenities of what makes a home.
As they say, "Home is where the heart is."
The problem for us is that sometimes our hearts lie in two different places.
Today's question: What is the one best thing to do around where you live and do you take your home for granted by not doing these things? Or, have you ever felt your heart lies in two or more places?